Microsoft intensifies open-source battle in Europe
Microsoft has appointed a senior executive to a new position in Europe to improve relationships with governments across the...
Microsoft has appointed a senior executive to a new position in Europe to improve relationships with governments across the continent, a move apparently designed to counter Europe's growing interest in open-source software.

Download this free guide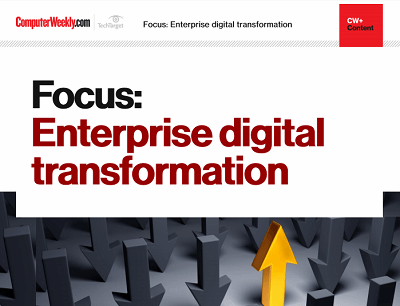 Are you digital to the transformation?
Digital transformation - the buzzword that we can't get away from. Enterprises need to accelerate their digital transformation journeys to avoid being left behind in an increasingly digital world. It's not an easy feat, but one that can be costly to get wrong. Join us as Computer Weekly takes a look at how businesses can stay on track through collaboration, innovation, and listening to user needs.
By submitting your personal information, you agree that TechTarget and its partners may contact you regarding relevant content, products and special offers.
You also agree that your personal information may be transferred and processed in the United States, and that you have read and agree to the Terms of Use and the Privacy Policy.
Jonathan Murray has been appointed "national technology officer" and will be based in Zurich. Until about two weeks ago he oversaw sales to Microsoft's top 50 business customers as vice president of global accounts.
The new job is part sales and part "evangelism". Murray will be "building better relationships in the public sector across Europe", a Microsoft spokeswoman said, adding that Peter Moore, chief technology officer and general manager of technical sales, plays a similar role in Asia.
The popularity of open-source products in Europe and Asia is a challenge for Microsoft. In Germany, for example, the city of Munich in May decided to install Linux and open-source office applications on the 14,000 computers in its public administration.
In China, Sun Microsystems and China Standard Software have agreed to develop desktop computers based on Sun's Linux-based Java Desktop System that could eventually see the software installed on hundreds of millions of computers.
"It is clear that Microsoft has a problem in the public sector worldwide. They have to convince people that it is politically correct to buy software from commercial software firms," said Rob Helm, research director at Directions on Microsoft, an independent research company.
Microsoft has been pretty outspoken in its fight against Linux and open-source products in the US.
"It sounds like Murray will be taking that fight to Europe where it is particularly hot right now," Helm said. "Murray certainly has as much experience as anybody in trying to deal with large customers. It is an important dimension in Microsoft's fight against open source."
Barbara Gordon, formerly vice president of the global sales organization at Sun, has replaced Murray as vice president of global accounts.
Joris Evers writes for IDG News Service
Read more on Operating systems software