Pass telecom package or broadband will suffer, warns European Commission
The European Commission has warned seven EU member states that their failure to enact a new legal regime called the telecom...
The European Commission has warned seven EU member states that their failure to enact a new legal regime called the telecom package is hampering the development of high-speed broadband services.

Download this free guide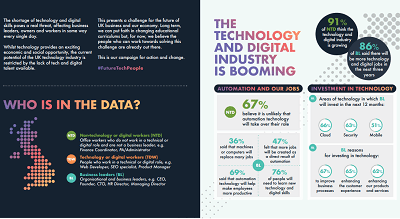 Infographic: Future-proofing UK technology
The shortage of technology and digital skills poses a real threat, affecting business leaders, owners and workers in some way every single day. Whilst technology provides an exciting economic and social opportunity, the current potential of the UK technology industry is restricted by the lack of tech and digital talent available. This presents a challenge for the future of UK business and our economy. Long term, we can put faith in changing educational curriculum but, for now, we believe the people who can work towards solving this challenge are already out there.
By submitting your personal information, you agree that TechTarget and its partners may contact you regarding relevant content, products and special offers.
You also agree that your personal information may be transferred and processed in the United States, and that you have read and agree to the Terms of Use and the Privacy Policy.
The commission opened legal proceedings against eight countries last month: Belgium, Germany, Greece, Spain, France, Luxembourg, the Netherlands and Portugal. Since then, only Spain has transposed the telecoms package into its national laws.
The laws place much of the responsibility for regulating markets, ranging from local telephone exchanges to e-mail servers, with national regulatory authorities. However, the commission can intervene if it believes fair competition does not exist in a market.
"All competent authorities now need to do their work and further strengthen competition in the broadband market to build on the current momentum," said Mario Monti and Erkki Liikanen, commissioners for competition and the information society respectively.
"Before they can do their job," they added, "the EU legislation needs to be transposed into national law."
The new regulatory framework is designed to get national telecom regulators working in line with each other, helped by a co-ordinating role played by the commission.
It started with a regulation on local loop unbundling passed in December 2000. Since then, laws including a directive on auctioning licences, on access and interconnection of networks, data protection in the digital environment and a framework telecommunications directive have been passed. They should have taken force across the EU in July.
In spite of the poor rate of transposition of the telecom package, the commission said the market is improving. Electronic communications markets are expected to grow faster in 2003 than the overall rate of growth of the EU economies.
The number of mobile subscribers will grow at a rate higher than in 2002, despite the mobile penetration rate being close to 90% in some member states. Third-generation mobile communication services are now available in at least four member states and are being launched in others.
The number of fixed broadband access lines almost doubled in the year to July 2003. New entrants' market share is starting to pick up, even if competition in the broadband sector is still weak.
However, the commission concluded that local loop unbundling, designed to prise open local phone exchanges to allow competitors to offer high-speed internet access on the same conditions as the former telecom monopolies, has not yet taken off.
Earlier this year the commission fined Deutsche Telecom and France Telecom's internet service provider Wanadoo for failing to allow fair access to the high-speed internet connection market.
The number of competing operators in each national market has remained more or less stable in recent years, the commission concluded, but it noted that a number of operators have retrenched in their home markets.
Competitive pressure has moved from the international and long-distance markets to the local call segment, where the incumbents' fixed market share has continued to fall, while consumers have continued to benefit from price reductions for fixed voice telephony.
"While the downward trend in prices has been maintained, the pace in 2003 is significantly slower than in previous years and less than half of that reported in 2002," the commission said.
Paul Meller writes for IDG News Service