SCO gives Linux users more time
The SCO Group is to give Linux users another two weeks before doubling the fees it is demanding for its Intellectual Property...
The SCO Group is to give Linux users another two weeks before doubling the fees it is demanding for its Intellectual Property Licence for Linux.
It has also backed off on plans to begin sending invoices to commercial Linux users this month.
The extension comes because SCO was late to market with its licensing plan, which was announced in August, according to SCO spokesman Blake Stowell.

Download this free guide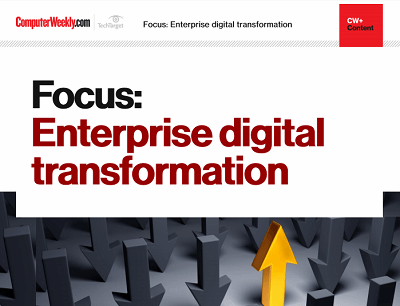 Are you digital to the transformation?
Digital transformation - the buzzword that we can't get away from. Enterprises need to accelerate their digital transformation journeys to avoid being left behind in an increasingly digital world. It's not an easy feat, but one that can be costly to get wrong. Join us as Computer Weekly takes a look at how businesses can stay on track through collaboration, innovation, and listening to user needs.
By submitting your personal information, you agree that TechTarget and its partners may contact you regarding relevant content, products and special offers.
You also agree that your personal information may be transferred and processed in the United States, and that you have read and agree to the Terms of Use and the Privacy Policy.
"We didn't actually get the licence on our price list and make that available for distribution until early September," he said. "It was our own fault that the licence was a little later than we'd hoped."
The new deadline to purchase the licence at the fee of $699 per processor expires on 31 October. After that, pricing will jump to $1,399 per processor, Stowell said.
SCO has also indefinitely delayed plans to begin sending invoices to Linux users. The company is compiling a list of commercial users, and had said it would begin invoicing these companies by mid-October.
"At this point we're pleased with the progress we've made on licensing end, and we feel it's not something that we need to do at this time," Stowell said.
Though they are not being invoiced, Linux users are still being contacted by SCO's sales force who offer to meet with them and explain the licensing plan, Stowell said. "Certainly if we don't have to send out the invoices that would be our preference."
Sending out invoices may also force SCO into a course of action it is not yet prepared to take, said Gordon Haff, an analyst with research firm Illuminata.
"If they send out the invoices, they really have to follow that up with some action, if they're not paid. Otherwise it looks like their bluff has been called," he said.
Invoicing could also expose SCO to lawsuits. "It's one thing to file a lawsuit against a specific company, and it's another thing to present invoices to a large number of end-user companies, many of whom will regard them as fraudulent and take counter-action," Haff said.
SCO claims that the Linux source code violates its Unix intellectual property rights. In March, it launched a £700m lawsuit against IBM, alleging it had inappropriately contributed code to Linux.
SCO has also threatened to sue individual Linux users on the basis of these claims. It introduced the Intellectual Property Licence for Linux as a way for Linux users to avoid litigation, even though SCO's claims have yet to be proven in court.
Robert McMillan writes for IDG News Service
Read more on Operating systems software