E-commerce minister praises IT as industry rewards its best talent
The winners of the prestigious British Computer Society's IT Professional Awards 2003 were announced on 24 September at a...
The winners of the prestigious British Computer Society's IT Professional Awards 2003 were announced on 24 September at a ceremony held at London's Hilton hotel in Park Lane.

The 19 awards, which covered business achievement, technology and individual excellence, also included, for the first time, a lifetime achievement award.

The ceremony took place before an audience of more than 700 IT professionals and VIP guests, including Stephen Timms, minister of state for e-commerce and competitiveness. Former Tomorrow's World presenter Angel Lamont hosted the event.

In the keynote speech, Timms praised the contribution IT had made to the economy and announced that the government intended to spend an extra £1bn on the UK's broadband infrastructure over the next three years.

BCS president John Ivinson said the IT industry had been undervalued for too long and called for more recognition for those working in IT.

The BCS Lifetime Achievement Award was presented to former AT&T chairman John Leighfield. Leighfield is chairman of the advisory board and an honorary professor at the Warwick Business School.

Leighfield has spent his entire working life in the IT industry, pioneering computer systems in manufacturing at Ford in the 1960s and later becoming head of manufacturing systems at Plessey.

Leighfield's award recognised a long and distinguished career in the IT industry. "He has not only enjoyed outstanding personal success in our field, but has also made a significant contribution to the development of the way the industry operates and has put back a great deal into the profession by dint of leadership and contribution," the judges said.

The Royal Bank of Scotland Group won the BCS Business Achievement Award for integrating two banks' IT systems after its takeover of NatWest. Despite the scale and complexity of the project it was achieved on time and with minimal disruption to customers and the business.

Newbury-based data collection firm Speed-Trap won the BCS Technology Award for its website design and navigation project, Prophet.

IT services provider Capita picked up an award for its London congestion charging scheme, which uses number plate recognition technology.

Three of the individual excellence awards went to IT managers at Swindon-based Zurich Financial Services.

Download this free guide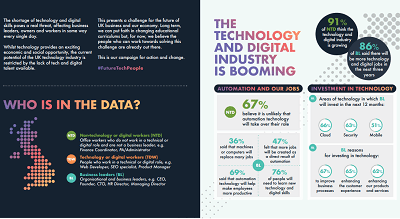 Infographic: Future-proofing UK technology
The shortage of technology and digital skills poses a real threat, affecting business leaders, owners and workers in some way every single day. Whilst technology provides an exciting economic and social opportunity, the current potential of the UK technology industry is restricted by the lack of tech and digital talent available. This presents a challenge for the future of UK business and our economy. Long term, we can put faith in changing educational curriculum but, for now, we believe the people who can work towards solving this challenge are already out there.
By submitting your personal information, you agree that TechTarget and its partners may contact you regarding relevant content, products and special offers.
You also agree that your personal information may be transferred and processed in the United States, and that you have read and agree to the Terms of Use and the Privacy Policy.
Winners of the BCS IT Professional Awards 2003
Business Achievement Awards
Business Achievement Award, Public Sector and Not For Profit: Department of Trade & Industry for the cross-governmental biotechnology project, I-BIOuk
Business Achievement Award, Financial and Related Services: Royal Bank of Scotland for its IT integration with NatWest
Business Achievement Award, Commercial & Industry: Marks & Spencer for its anti-theft project Profit Protection.Net
Flagship Business Achievement Award: Royal Bank of Scotland
Individual Excellence Awards
Young IT Professional of the Year: James Bailey, Eclipse Internet
IT Trainer of the Year: Jit Parmar, Informatics Group UK
IT Consultant of the Year: Gill Hunt, Hunt Lancaster
IT Director of the Year: John White, Royal Bank of Scotland Group
Quality Manager Award: Nick Munday, Zurich Financial Services
Business Analyst Award: Mark Jessop, McDonald's
IT Developer of the Year, Applications: James Heydon, Zurich Financial Services
IT Developer of the Year, Infrastructure: Mark Orford, Liverpool Direct
IT Service Manager of the Year: Ann Davies, Zurich Financial Services
Technology Awards
Technology Award, Applications: Prophet by Speed-Trap
Technology Award, Services: Bacstel-IP by Bacs
Technology Award, Systems: Pixology Iriss by Pixology
Technology Award, Social Contribution: London congestion charging scheme, Capita Business Services
Flagship Technology Award 2003: Prophet by Speed-Trap
BCS Lifetime Achievement Award: John Leighfield.

For more information about the awards, contact Nisha Mukhey
Tel: 020-7234 8711

E-mail: nisha.mukhey@quest-media.com

Web: www.bcs.org/awards/professional/