SCO debates sending Unix licence invoices to Linux users
The SCO Group is considering sending invoices to corporate Linux users, demanding they pay $699 (£440) per processor for the...
The SCO Group is considering sending invoices to corporate Linux users, demanding they pay $699 (£440) per processor for the right to run the open-source system.
The move is the latest twist in SCO's campaign to get corporate Linux users to license its UnixWare technology or risk being sued for allegedly violating the company's intellectual property.

Download this free guide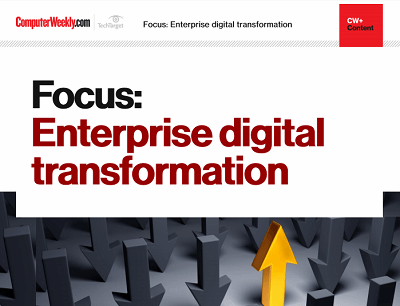 Are you digital to the transformation?
Digital transformation - the buzzword that we can't get away from. Enterprises need to accelerate their digital transformation journeys to avoid being left behind in an increasingly digital world. It's not an easy feat, but one that can be costly to get wrong. Join us as Computer Weekly takes a look at how businesses can stay on track through collaboration, innovation, and listening to user needs.
By submitting your personal information, you agree that TechTarget and its partners may contact you regarding relevant content, products and special offers.
You also agree that your personal information may be transferred and processed in the United States, and that you have read and agree to the Terms of Use and the Privacy Policy.
In March SCO filed a lawsuit against IBM and is now seeking $3bn in damages. It alleges that IBM illegally contributed SCO's System V Unix code into the Linux open-source project to benefit IBM's business.
Targets for the proposed invoices are being identified by web searches and culling corporate user names from news stories.
"We are not trying to make this a witch hunt," a SCO spokesman said, but warned that it would pursue corporate Linux users even if it lost its legal fight with IBM.
"I don't think that SCO is completely dependent on the SCO/IBM case to prove that Unix is in Linux," the spokesman stated.
Although SCO could issue invoices to 1,000-plus corporate users next month, the spokesman said the alleged breach of intellectual property rights was not the user's fault. "It's the [software] distributor's fault and the open-source community's fault," he added.
Dan Kusnetzky, an analyst at market research firm IDC, said SCO's claims had not been proved in court. "It is not clear that the SCO Group owns anything that's inside a typical box of Linux," he said. "I think there's so much in question that it would not be reasonable or prudent for a company to give money to the SCO Group until this is settled."
At the SCO Forum in Las Vegas last month, SCO's CEO and president Darl McBride was asked if the company had considered creating an escrow account to reassure potential licensees that the Linux licence fee would be refunded if a court ruled that SCO was not entitled to them. "We haven't built that in," he admitted.
Todd Weiss writes for ComputerWorld
Read more on Operating systems software