Nokia promises major corporate telecoms savings
Mobile phone giant Nokia has predicted massive savings for users replacing traditional corporate PBXs over the next few years...
Mobile phone giant Nokia has predicted massive savings for users replacing traditional corporate PBXs over the next few years with mobile telephony and virtual PBXs within their offices.
Joe Barrett, director for industry marketing at Nokia, said businesses could deploy mobile phone base stations on campuses and even within buildings to create local mobile phone networks.

Download this free guide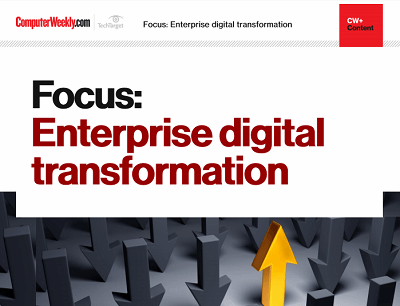 Are you digital to the transformation?
Digital transformation - the buzzword that we can't get away from. Enterprises need to accelerate their digital transformation journeys to avoid being left behind in an increasingly digital world. It's not an easy feat, but one that can be costly to get wrong. Join us as Computer Weekly takes a look at how businesses can stay on track through collaboration, innovation, and listening to user needs.
By submitting your personal information, you agree that TechTarget and its partners may contact you regarding relevant content, products and special offers.
You also agree that your personal information may be transferred and processed in the United States, and that you have read and agree to the Terms of Use and the Privacy Policy.
By using location-based services in conjunction with such base stations he said, "We can tell where a user is making a call and allow free calls within the user's home network." A second tariff would be levied on users making calls into the office, and a higher tariff would be charged for normal mobile phone calls.
Barrett believed the Nokia approach to mobile communications is superior to traditional PBXs and other alternatives offered by business, which are designed to allow roaming between mobile phone networks, 802,11 wireless Lans and Bluetooth. "There is no need to maintain a fixed voice network or desk phones," he said.
Barrett added that the disadvantage with roaming between 802.11 and mobile phone networks was that a call would be suspended when the user moved between the two types of network. This would not happen if all calls were made over a mobile network. For the user, Barrett said the savings in using mobile phone technology for all corporate telephone usage can be as much as 20%.
In terms of future devices, Barrett said users should expect to see devices and networks supporting faster networks based on the high-speed downlink packet access, which provides network bandwidth of 10Mbps for downloading and 6MBps for uploading data.
Later in the summer Nokia is introducing an updated version of its 6800 corporate mobile phone, which will include client software from Research In Motion, to allow the phone to send and receive corporate email in the same way as RIM's popular BlackBerry device.
Read more on Operating systems software