EMC upgrades DMX line
EMC plans to unveil in September a high-end Symmetrix array, as well as upgrades to its DMX800, DMX1000 and DMX2000 arrays that...
EMC is to unveil in September a high-end Symmetrix array, as well as upgrades to its DMX800, DMX1000 and DMX2000 arrays that include native Ficon mainframe connectivity and internet SCSI (iSCSI) for connecting low-end servers to high-end storage for backup.

Download this free guide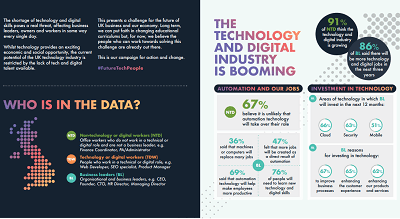 Infographic: Future-proofing UK technology
The shortage of technology and digital skills poses a real threat, affecting business leaders, owners and workers in some way every single day. Whilst technology provides an exciting economic and social opportunity, the current potential of the UK technology industry is restricted by the lack of tech and digital talent available. This presents a challenge for the future of UK business and our economy. Long term, we can put faith in changing educational curriculum but, for now, we believe the people who can work towards solving this challenge are already out there.
By submitting your personal information, you agree that TechTarget and its partners may contact you regarding relevant content, products and special offers.
You also agree that your personal information may be transferred and processed in the United States, and that you have read and agree to the Terms of Use and the Privacy Policy.
EMC said it will begin shipping its high-end DMX 8000 array with up to 576 drives and 84TByte of capacity, creating what it called its densest architecture yet. The three-bay array will also be available with a version of Symmetrix Remote Data Facility (SRDF), offering asynchronous replication over thousands of miles for disaster recovery.
The company's entire Direct Matrix Architecture (DMX) line will now be able to perform asynchronous remote mirroring using Gigabit Ethernet.
EMC said its SRDF/A software will reduce bandwidth consumption by 30% by mirroring delta sets of data every 15 to 30 seconds instead of constantly updating ordered writes, said Chuck Hollis, vice-president of platforms marketing at EMC. The company also added snap copy functions to the line of storage servers for live backup of data without disrupting service.
"This is two years' worth of roadmap being released in six months," Hollis said.
Also being introduced to the DMX line is native iSCSI, which will allow systems administrators to attach low-cost servers to a storage-area network using IP over Ethernet, something that previously required a Fibre Channel host bus adapter that could cost anywhere from $800 (£494) to $1,200 (£741), or twice that amount to have fail-over capabilities.
Hollis said the server controllers will come with four external ports that will allow users to mix and match data transport protocols among Ficon, Gigabit Ethernet and iSCSI.
The DMX 8000 will have 128 paths between channel directors and internal caches. The arrays boosted internal bandwidth from 1.6GByte in previous Symmetrix array models to 64GByte.
EMC also added native Ficon support for its arrays, allowing IBM mainframes and AS/400s to be backed up to the storage boxes.
EMC said it is also reducing the cost of its entry-level DMX 800 array by 30%. The rack-mountable DMX 800 scales from eight to 16 front-end ports and from 1.2TBytes to 17.5TBytes of raw capacity. It can also scale from 4GBytes to 32GBytes of cache for open-systems environments.
The Symmetrix DMX1000 is a single-bay system that scales from eight to 48 front-end ports, from 3.5TBytes to 21TBytes of raw capacity (3TBytes to 18.5TBytes usable) and from 4GBytes to 64GBytes of cache for mainframe and open-systems environments.
The Symmetrix DMX2000 is a dual-bay system that scales from eight to 96 front-end ports, from 7TBytes to 42TBytes raw capacity (6.1TBytes to 37TBytes usable) and from 8GBytes to 128GBytes of cache for mainframe and open-systems environments.
Lucas Mearian writes for Computerworld