Sybase opens Linux showcase centre in New York
Database software supplier Sybase has launched a Linux competency centre in New York for customers to learn more about its...
Database software supplier Sybase has launched a Linux competency centre in New York for customers to learn more about its products.
Sybase said the centre will be fully equipped with a wide range of hardware and software to allow customers to see how Sybase applications on Linux can benefit their businesses. The centre will include a development and test centre, as well as technical resources and financial services specialists for on-site support and advice for migrations to Linux.

Download this free guide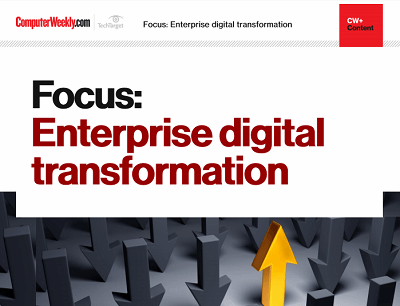 Are you digital to the transformation?
Digital transformation - the buzzword that we can't get away from. Enterprises need to accelerate their digital transformation journeys to avoid being left behind in an increasingly digital world. It's not an easy feat, but one that can be costly to get wrong. Join us as Computer Weekly takes a look at how businesses can stay on track through collaboration, innovation, and listening to user needs.
By submitting your personal information, you agree that TechTarget and its partners may contact you regarding relevant content, products and special offers.
You also agree that your personal information may be transferred and processed in the United States, and that you have read and agree to the Terms of Use and the Privacy Policy.
The facility will also feature hardware and software from Dell, Hewlett-Packard, IBM, Intel, Red Hat, Sun Microsystems and others.
The centre is located at Sybase's New York offices. IBM created a similar facility last autumn, also in New York.
Sybase also aims to have all of its applications ready for Linux by next year.
The company already offers Adaptive Server Enterprise, an enterprise-class relational database management system, as well as Enterprise Application Server, Replication Server and a few others for Linux.
By next year, all of the rest, including the Sybase IQ highly scalable analytical database, Enterprise Portal and Sybase Integration Suite, will be available for Linux.
Meanwhile, Sybase has broadened an existing agreement with Red Hat to certify the latest Sybase enterprise-class data management applications on Red Hat Enterprise Linux server operating systems.
Among the newly certified applications are Sybase Adaptive Server Enterprise 12.5, Replication Server 12.5, Open Client 12.5 and Open Server 12.5.
Under the deal, Sybase and Red Hat will collaborate on engineering development, training and support and will exchange technology roadmaps to co-ordinate activities in serving customers. The two companies will also provide customer support.
Todd R Weiss writes for Computerworld
Read more on Operating systems software