CA chiefs spell out the future - and it's not outsourcing
Computer Associates will later today unveil a suite of products to support on-demand computing at its annual CA World conference...
Computer Associates will later today unveil a suite of products to support on-demand computing at its annual CA World conference in Las Vegas.
Mark Barrenechea, senior vice president of product development at CA, pitched the company's vision for on-demand computing as an alternative to outsourcing.

Download this free guide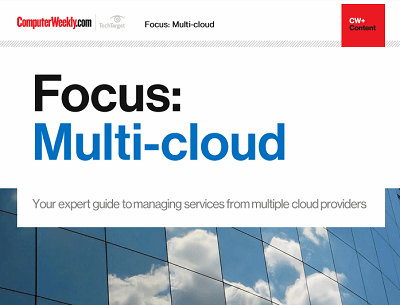 Mixing and matching your cloud options
Many IT leaders are increasingly coming round to the idea that sourcing services from one or more providers might be the best way to go. From a cost and resiliency perspective, some workloads might work better in one cloud over another. Or a certain provider might boast some functionality that suits a particular process the enterprise is looking to implement, but falls short in other areas, prompting the company to adopt a mix-and-match procurement strategy. Join us as Computer Weekly takes a closer look at the multi-cloud approach and what providers are doing to capitalise on the trend.
By submitting your personal information, you agree that TechTarget and its partners may contact you regarding relevant content, products and special offers.
You also agree that your personal information may be transferred and processed in the United States, and that you have read and agree to the Terms of Use and the Privacy Policy.
He said outsourcing to companies such as IBM Global Services was inflexible. "Outsourcing to IBM is a lock-in. IBM has no incentive to innovate."
The alternative CA vision relies on a central repository – a database of all IT assets within a company, which will help ascertain the business impact of an IT failure.
This is combined with a set of four key business processes:
Discovery to inventory

Inventory to utilisation

Storage to virtualisation

Identity to vulnerability
The concept underpinning the CA`s strategy is to provide tools to allow IT directors to charge business units for their IT use monthly, much like a utility bill.
This is not possible at present, with internal costing for IT being based on the number of users or desktops rather than charging for the overall cost of providing IT for a given business service.
Sonar, one of the tools to be introduced later today, is a key component in CA's on-demand strategy. It offers the means by which IT directors can manage IT based on the impact it has on business processes.
Clive Longbottom, senior director at IT analyst firm Quocirca, felt that CA's strategy was flawed. "Any user that employs 1,000 IT staff today has got their core values totally wrong," he said. Longbottom believed any on-demand strategy should fit alongside a company's outsourcing goals.
Longbottom was also sceptical of CA's view that IT assets should be stored in a single repository to allow the IT director to assess the business impact of an IT failure.
"There is nothing wrong in creating silos of IT asset data if you have intelligent tools," he said.
Longbottom believed the flaw in CA's plans was that vast amounts of storage and processing power would be required for IT management to support a central database of IT assets.
Read more on IT outsourcing