Recording industry faces the music
IT chiefs need to prepare their applications now for a surge in downloads
IT chiefs need to prepare their applications now for a surge in downloads

After spending many years trying to stifle the growth of online music downloading, the major record labels appear to have finally acknowledged the distribution potential of the internet.

The success of Apple Computer's online music store iTunes, which sold more than five million tracks in just eight weeks after it launched in April, has persuaded music giants such as Warner and EMI that the internet can drive rather than harm CD sales.

"The iTunes Music Store is changing the way people buy music," said Steve Jobs, chief executive at Apple.

"Selling five million songs in the first eight weeks has far surpassed our expectations, and clearly illustrates that many customers are hungry for a legal way to acquire their music online."

The success of iTunes has spurred everyone in the music industry to search for a similar online system, said Roger Ames, chairman and chief executive officer at Warner Music Group.

"Apple has shown the music industry, artists and consumers that there is a successful and easy way of legally distributing and obtaining music over the Internet," he said.

By the end of the year, US consumers will be able to buy music from as many as six new legitimate online services backed by the major labels and technology giants such as Microsoft, Yahoo and AOL, and Europe is not far behind.

In one of the most high-profile moves this side of the Atlantic, EMI recently revealed ambitious plans to offer more than 140,000 of its tracks online to European consumers.

More than 20 online music retailers, including HMV, Freeserve and MSN, have signed up to the scheme, which will enable consumers to burn tracks on to CD-Roms, copy tracks on to portable players and buy singles before they are released in stores.

Analysts said the backing of the major labels will boost legal downloading, but argued that industry co-operation is vital if online music is to fulfil its potential.

"The problem at the moment is that the different record labels are doing different things, which just causes problems for users wanting to download a range of music," said Adrian Drodz, managing analyst at Datamonitor. "They will have to get together at some point. We have seen this happen with the film studios in the US, though, which is a good benchmark."

The imminent online moves would seem to mark a sea change in the attitude of the major record labels, which have largely concentrated their efforts on closing down free peer-to-peer downloading services, such as Napster and Kazaa.

However, while research by polling firm Nielsen revealed that 71% of those using file-sharing services regularly buy music online or in the high street, the music industry continues to clamp down on these services and their users.

The latest move has seen industry trade body the Recording Industry Association of America threatening individual file swappers with lawsuits.

The RIAA last week said it will use software that can scan peer-to-peer networks for copyrighted material and download the suspect files while also capturing the date and time of the download as evidence.

Additional information obtained from the systems hosting the files will lead the RIAA to the file swapper's ISP.

Those ISPs will then be served with subpoenas under the Digital Millennium Copyright Act, requiring them to divulge the name and address of the individuals hosting the files.

Individuals found swapping copyrighted material could face legal action from the RIAA in the form of civil lawsuits and even criminal prosecution, according to the association.

"We cannot stand by while piracy takes a devastating toll on artists, musicians, songwriters, retailers and everyone in the music industry," it said.

Some US government officials think punishments should go even further. Last week, Republican Senator Orrin Hatch said he wanted to develop technology which would remotely destroy the computers of people who download music tracks illegally.

No matter how Draconian the outlook of governments and the music industry bodies, however, usage figures suggest that many free downloading services will continue to exist. Kazaa, for example, has had 250 million music downloads in the past year.

But, despite the continued availability of these free services, consumers would be prepared to pay for music and other online content as long as "micropayment" services are easily available, Drodz said.

"There needs to be consolidation as there are too many different micropayment strategies in Europe at the moment," he said.

"Having so many different services defeats the point of micropayments, which are supposed to make paying for online content flexible and easy."

Selling content for less than £5 is not usually viable for online service providers because of credit card charges, but micropayment services were supposed to alleviate this problem by allowing consumers to spend as little as 5p. However, take-up has not been widespread, largely because of a lack of awareness from consumers, Drodz said.

"Micropayments have not been pushed enough which is a shame because there are some good services out there," he said.

"BT has a service which allows you to put your details in once and then not have to worry about it again."

Under the BT "Click and Buy" scheme, consumers pay on a monthly basis, either by adding to their landline bill or as a separate account.

Another key technology that IT chiefs in the music industry will have to consider once legal downloading schemes are running is Digital Rights Management software, which ensures content cannot be replicated for free. This is set to be an increasingly popular application in the coming years, as reflected by Microsoft's recent $250m investment in the software.

A similar application to DRM is the Global Release Identifier, an electronic version of the Universal Product Code barcode scheme used to identify CDs and other physical products.

Grid, created by the International Federation of Phonographic Industry, is designed to track each time a record company, online retailer or distributor sells a track or group of tracks, thereby ensuring artists are properly compensated.

After years of procrastinating it has taken a company from the technology sector to show the music industry that the internet can be a valuable sales channel.

This reflects the growing importance of IT within the industry and the way companies such as Warner and EMI use technology will be a key competitive differentiator in the years to come.

IT's download duties

Download this free guide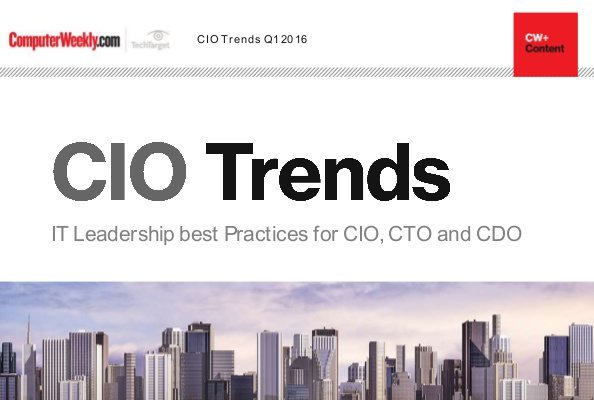 Your exclusive guide to CIO trends
A collection of our most popular articles for IT leaders from the first few months of 2016, including: - Corporate giants recruit digitally-minded outsiders to drive transformation - Analytics platforms to drive strategy in 2016 - Next generation: The changing role of IT leaders.
By submitting your personal information, you agree that TechTarget and its partners may contact you regarding relevant content, products and special offers.
You also agree that your personal information may be transferred and processed in the United States, and that you have read and agree to the Terms of Use and the Privacy Policy.

What will the emergence of legal downloading services mean for IT directors in the music industry?
They will have to ensure their websites are able to accept micropayment services, which allow consumers to spend between 5p and £5 online l Implement a tracking system, such as the Global Release Identifier, will allow the publisher to ensure artists are compensated
Add digital rights management software on tracks so music cannot be passed freely to third parties.
Read more on IT risk management