IBM to release Shark storage upgrades
IBM has announced enhancements to its flagship storage array, the Enterprise Storage Server Model 800.
IBM enhanced the Enterprise Storage Server Model 800, its flagship storage array.
These include long-distance data mirroring or peer-to-peer remote copy (PPRC) without the use of snapshot, an additional 6.9TB of standby capacity and a new version of its FlashCopy software.

Download this free guide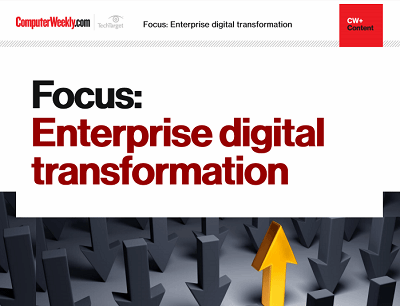 Are you digital to the transformation?
Digital transformation - the buzzword that we can't get away from. Enterprises need to accelerate their digital transformation journeys to avoid being left behind in an increasingly digital world. It's not an easy feat, but one that can be costly to get wrong. Join us as Computer Weekly takes a look at how businesses can stay on track through collaboration, innovation, and listening to user needs.
By submitting your personal information, you agree that TechTarget and its partners may contact you regarding relevant content, products and special offers.
You also agree that your personal information may be transferred and processed in the United States, and that you have read and agree to the Terms of Use and the Privacy Policy.
The company also cut the charge for additional standby capacity from 25% to 10%. Jim Tuckwell, marketing manager for IBM's Enterprise Storage Systems division, said the standby capacity feature was popular with the previous Shark model.
The upgrades will be generally available on 27 June.
Mike Kahn, manager director of The Clipper Group, said many of the upgrades automate functions, such as sending copies of data over thousands of miles asynchronously for disaster recovery, were already available on the older model of the Shark.
Instead of pausing the flow of data so a snapshot can be taken, as is now required, copies can be made on a transactional basis to a secondary array in another data centre and then transferred over IP, as if from a primary data centre to a disaster recovery site thousands of miles away.
That method of data transfer is known as asynchronous replication, where one array does not need to acknowledge that it has received the data before another data set is transferred.
IBM's version 2 of FlashCopy now offers up to 10 times the amount of data previously transferable with that function. In addition, up to 12 different targets can now receive point-in-time copies.
Tuckwell said IBM also improved the command line interface so it can perform lists of deletes in terms of user management, performance counters and count key data volumes.
Prices for new versions of FlashCopy will be roughly 20% more than the previous version and about 25% more for the latest version of PPRC. Both applications currently start at $60,000 (£37,300) each.