Microsoft takes on Unix as new releases push into the datacentre
Microsoft will launch a host of products this week, including the much-anticipated revision of its Windows operating system, in a...

Download this free guide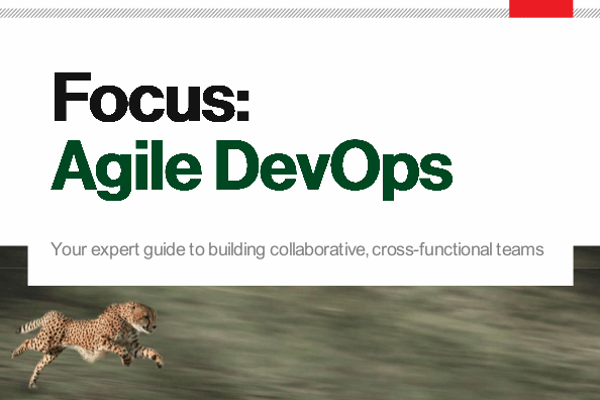 How can your business benefit from DevOps?
Let's take a look at six of the development practices that Disciplined Agile Delivery recommends for disciplined DevOps teams.
By submitting your personal information, you agree that TechTarget and its partners may contact you regarding relevant content, products and special offers.
You also agree that your personal information may be transferred and processed in the United States, and that you have read and agree to the Terms of Use and the Privacy Policy.

Microsoft will launch a host of products this week, including the much-anticipated revision of its Windows operating system, in a bid to push its technology further into the datacentre.

Along with 32-bit Windows 2003, chairman Bill Gates and chief executive Steve Ballmer will unveil a 64-bit Windows 2003/ SQL Server 2000 combo for Intel Itanium II-based servers, designed to give Unix-standard performance at a fraction of the cost. A revision of its flagship development tool, Visual Studio .net 2003, will also be launched.

Visual Studio .net and Windows 2003 are key to Microsoft's application server strategy. Ivo Salme, product manager for .net development tools at Microsoft, recently described the two products as "providing the easiest way to build web services".

But the real focus of the launch will be Windows 2003 and, in particular, its ability to run on datacentre servers from the likes of Unisys, Nec and Hewlett-Packard. The ability to manage IT resources and applications dynamically on such hardware is still a differentiator for high-end Unix systems.

Michael Emmanuel, a senior product manager at Microsoft, said Windows 2003 represents the starting point for a Microsoft strategy known as the dynamic systems initiative, which will change the way applications are managed.

While the new operating system makes it possible to put Windows servers on system area networks or network access servers, Emmanuel admitted that one management feature, automated deployment services, failed to make it into the release. Microsoft plans introduce the tool, which allows a system administrator to bring servers in a server farm online in about 10 minutes, later this year.

As a systems implementer and reference customer of Microsoft, Gavin Williams, infrastructure director at Avanade Technology, has been trialling the new operating system for a few months. Avanade is working with businesses around the world on deploying Windows 2003. Australian construction giant Boral is replacing NT 4 systems. "By moving to Windows 2003, Boral required 30% less servers than NT 4.0," Williams said.

NT 4 migration is a key focus for Windows 2003 because Microsoft ends support for NT4 at the end of 2004. The business case for upgrading from Windows 2000 is less clear, although some users may benefit from the ability to load the Microsoft Active Directory component of Windows 2003 from a CD-Rom.
Read more on Operating systems software