Suppliers push ultrawideband as wireless alternative
Several suppliers are pushing a technology that could vastly multiply the transfer rate between wireless devices as a new...
Several suppliers are pushing a technology that could vastly multiply the transfer rate between wireless devices as a new wireless networking standard.

Download this free guide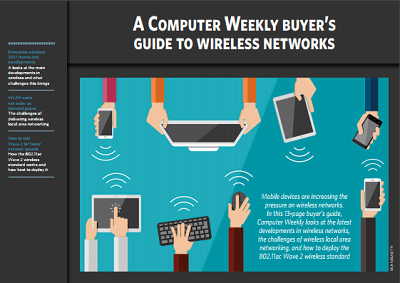 Carrying the heavy wireless burden of mobile devices
Mobile devices are increasing the pressure on wireless networks. In this buyer's guide, Computer Weekly looks at the latest developments in wireless networks, the challenges of wireless local area networking, and how to deploy the 802.11ac Wave 2 wireless standard.
By submitting your personal information, you agree that TechTarget and its partners may contact you regarding relevant content, products and special offers.
You also agree that your personal information may be transferred and processed in the United States, and that you have read and agree to the Terms of Use and the Privacy Policy.
All but two of the 24 proposals for a new wireless personal area network (WPAN) standard focus on ultrawideband (UWB), an emerging technology similar to Wi-Fi but with the potential to boost current transfer rates more than tenfold.
UWB uses a wide frequency - of thousands of megahertz compared to the less than 100 MHz used by cell phones - allowing transfer rates to approach 100Mbps, compared to WiFi's 54Mbps. Further out, transfer rates for UWB could reach one gigabit per second.
UWB doesn't emit radio signals stronger than the unintentional emissions produced by most electronic devices, so it doesn't interfere with other wireless gadgets. Its range would be less than that of WiFi, however, at about 10 metres.
That range would likely make UWB ineffective for most home or corporate wireless computer networks, but backers see potential in its healthy transfer rates for linking such equipment as cable boxes and flat-screen plasma television sets. UWB would eliminate the "aesthetic disadvantage" of having a wire connected to a wall-mounted flat-screen TV, and its speed allows acceptable wireless transfer rates for video, said Chris Fisher, vice president of marketing for chipmaker XtremeSpectrum.
XtremeSpectrum is pushing one of the UWB proposals and has the support of Motorola. The companies have signed a memorandum of understanding to work together on using XtremeSolution's UWB technology in Motorola's wireless devices.
Fisher sees UWB as a viable alternative to Bluetooth, another WPAN technology backed by companies such as Microsoft and IBM that is being used to connect computers to printers and other devices. UWB offers transfer rates at least 100 times faster than those of Bluetooth.
Read more on Wireless networking