Boost business with instant messenger and Web services, says Gartner
Chief information officers should pilot Web services and enterprise instant messaging services if they want to boost the...

Download this free guide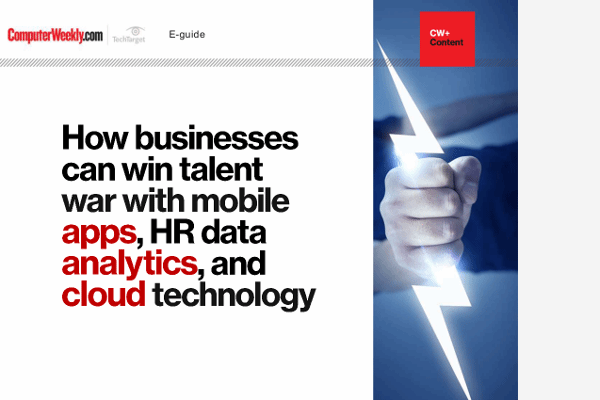 How businesses can win talent war with mobile apps, HR data analytics and cloud technology
Latest articles on HR best practices: mobile apps disrupting the annual staff appraisals; reasons for and against open-source software; and Rolls-Royce case study.
By submitting your email address, you agree to receive emails regarding relevant topic offers from TechTarget and its partners. You can withdraw your consent at any time. Contact TechTarget at 275 Grove Street, Newton, MA.
You also agree that your personal information may be transferred and processed in the United States, and that you have read and agree to the Terms of Use and the Privacy Policy.

Chief information officers should pilot Web services and enterprise instant messaging services if they want to boost the credibility of their department within the business.



That is the message from analyst group Gartner, which is urging CIOs to investigate ways IT can improve the responsiveness of the business in 2003.

"You cannot be a credible business partner unless you can demonstrate how IT can deliver value to the business," John Mahoney, a Gartner research director and former CIO at the British Library, said.

Web services and enterprise instant messenger are two new technologies Gartner believes could radically change how information flows within a company.

Gartner research director Mark Raskino said that management's inability to make rapid decisions, rather than delays on the operational side of business, were now the primary drag on business.

Enterprise instant messenger services can speed the flow of information needed to make quick decisions, said Raskino, but he warned: "Instant messenger is viral technology. If you sit back it'll be out of control."

Raskino also urged CIOs to examine how instant messenger Web services could be deployed to make businesses run more efficiently.

Gartner believed the next business revolution would be the creation of the "real-time enterprise", where up-to-the minute information is used to remove management delays and execute critical business processes.

Raskino said IT has a key role to play in the real-time enterprise. "Dell is using technology to remove cycle time [in manufacturing] and achieve significant business benefit." This has allowed the company to increase profit in an economic downturn.

Another example cited by Raskino was the airline business where low-cost carriers are using Web-based ticketing to improve their cashflow.

"The low-cost carriers sell a seat and get their cash very quickly, which is in contrast to the major carriers where the money for the ticket is taken indirectly through travel agents," he said.

The major carriers spend as much as 4% of their turnover on IT, while the low-cost carriers only spend 1.5%.

The core technologies required to build a real-time enterprise in the next three years, according to Raskino, are radio tagging, business activity monitoring, next-generation ERP and change management, alongside instant messenger and Web services.

Gartner offers 10 new-year resolutions for IT directors >>
Read more on Web software