OracleWorld: Michael Dell salutes Oracle partnership
Dell Computer chairman and chief executive officer Michael Dell hailed Dell's partnership with Oracle, and stressed that Linux...
This Article Covers
RELATED TOPICS

Download this free guide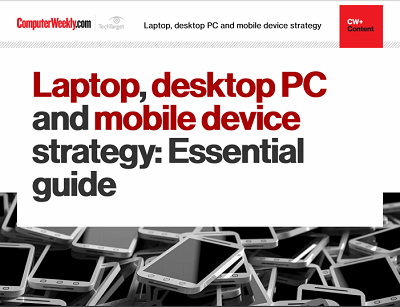 The great debate - to PC or not to PC
IT leaders have greater choice in end-user devices than ever before. The age of PC-only users is over and we have entered the multiple device era. In this guide, you can find best practice, analysis of the latest trends, and expert advice on formulating enterprise strategy in laptops, desktop PCs and mobile devices.

By submitting your personal information, you agree that TechTarget and its partners may contact you regarding relevant content, products and special offers.

You also agree that your personal information may be transferred and processed in the United States, and that you have read and agree to the Terms of Use and the Privacy Policy.

Dell Computer chairman and chief executive officer Michael Dell hailed Dell's partnership with Oracle, and stressed that Linux and his company's Intel boxes are the new wave of computing, during a keynote presentation at OracleWorld yesterday.



"Dell and Oracle are leaders in their respected fields. Dell is the number one computer systems company in the world and the number one provider of servers in the US, and Oracle is the number one provider of enterprise software in the world and the number one [vendor] of relational databases in the US as well," he said.

Dell said his company uses Oracle9i Real Application Clusters software internally for processing orders, adding that the combination of Dell's Intel boxes, Oracle software and Linux provided customers an alternative to high costs. He cited industry figures showing Unix had lost market share, but that 55% of enterprise revenue still goes to Unix systems.

"We think customers are paying too much for those systems and our job is to drive those costs down," said Dell. "In Linux, we have found a Unix that really is a better answer. We think Linux is the new Unix," Dell said.

Sun was a particular target of Dell's comments. In 1996, Dell shipped only 68% of the volume of servers that Sun did, but shipped nearly three times more, 275%, than Sun's volumes by 2001, he said. "However, we do that at 40% less cost than Sun. We're saving customers a lot of money as we move to standards," said Dell.

A clustered computing scheme and modular-based architecture are able to keep up with the needs of a growing business, Dell said.

"The days of proprietary Unix, we think, are rapidly ending," as far as this being the only platform for running mission-critical applications.

"At Dell, we're driving this migration through a commitment to open standards" and modular computing, Dell added.

He perceived that Linux, however, was still in a "gestation period", in which it is gaining industry support from key systems providers. The next wave is more packaged applications for Linux, Dell believed.

"I think we're going to continue to see a very active migration of customers away from the proprietary legacy platforms onto more flexible, modular, standards-based solutions."

Dell had dire words for some unnamed vendors. "Sometimes, I'm asked when spending is going to come back in our industry. Well, for some companies, it's never going to come back," he said, because customers have moved on to less expensive platforms.

Dell also cited fabric-based computing - in which systems such as storage and networking are linked - as a growing trend. Dell said the company was not planning large-scale acquisitions but may make some small ones. "It's pretty clear that you don't just make success by buying things," he said.

The company wants to develop an ecosystem for Oracle and other platforms that feature professional services, software tools and architecture and components such as SAN capabilities.

Dell said outsourcing of systems is not for everyone. "I'm not convinced that every customer is going to do that. Certainly, we have many customers who are doing that and there will probably be many more but it's not [necessarily] the right answer for all customers."

Some customers can benefit from sharing best practices and outsourcing, but for other customers, outsourcing means handing off a problem to somebody else, and ending up "with a totally different problem," he added.

A Sun official said customers have been coming to Sun asking it to take on Linux development, and that Dell is still largely a Windows systems vendor.

"Where the money is for them still tends to be in that Windows camp," said Peter Ulander, director of marketing in Sun's volume systems products group.

Sun, he said, has the "fastest-selling single-processor box on the market" right now with its low-end SunFire systems. Sun's Solaris market share has been increasing.

Dell's product-related announcements pertaining to Oracle:

The company expanded its offerings on Dell PowerEdge servers to include PowerEdge 2650 servers with a Dell-EMC CX400 storage array, as well as a high-end configuration of clustered eight-way PowerEdge 8450 servers with the Dell-EMC CX600 storage array. The new Dell-EMC storage solutions are scheduled to ship in December.



To boost solutions for Oracle9i database with Real Application Clusters on Red Hat Linux, Dell configurations will support the Oracle Cluster File System and EMC PowerPath high-availability software early next year.