Firms bolster offerings ahead of storage initiative
Storage resource management (SRM) vendors are striving to ease SAN management as the Storage Network Industry...

Download this free guide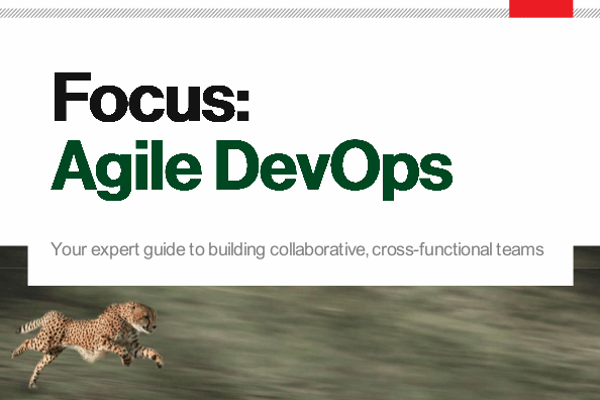 How can your business benefit from DevOps?
Let's take a look at six of the development practices that Disciplined Agile Delivery recommends for disciplined DevOps teams.
By submitting your personal information, you agree that TechTarget and its partners may contact you regarding relevant content, products and special offers.
You also agree that your personal information may be transferred and processed in the United States, and that you have read and agree to the Terms of Use and the Privacy Policy.

Storage resource management (SRM) vendors are striving to ease SAN management as the Storage Network Industry Association-supported Storage Management Initiative (SMI) nears completion.



On Monday (23 September), Computer Associates will release BrightStor, a portal designed for managing multivendor storage devices, elements and applications. Web-based BrightStor aims to help enterprises manage a multivendor SAN and its associated applications from a single console.

Only last week EMC, Hewlett-Packard and Veritas released details of their SRM wares.

Bill North, director of storage software research at IDC, said the market for SRM software is growing in line with the proliferation of SANs. "Storage networking has moved from the back room to the mainstream," North said. He added that storage management costs have gone up as SANs have become more complex.

Mike Peterson, the president of New York-based Strategic Research, believed that once implemented, SMI would help users - albeit indirectly - because vendors would spend less time reverse-engineering competitors' APIs and drivers, thereby freeing them to spend more time on innovation.

Despite the efforts of these vendors, however, the relative newness of SAN technology is posing problems for some users, who are finding that storage vendors deliver capable software but that there are loose definitions as to how management applications should best be used. Squabbles among vendors have slowed the pace of interoperability, which means users must do a lot of dirty work to build a SAN.

"We would really like to see some kind of standard, cookie-cutter way of deploying and managing storage," said Laurence Whittaker, supervisor of enterprise storage management at Hudson's Bay in Toronto. "I don't think these best practices will come from the vendor community; I think they will come from user groups."

Veritas last week detailed its SRM product, SANPoint Control 3. "We are now expanding our product up into the application layer," said Jonathan Martin, a director of product management at Veritas, adding that it manages storage resources for an Oracle table space or Microsoft Exchange mailbox.

EMC, for its part, claimed its SRM product, ControlCenter, could now do end-to-end storage provisioning automatically with the addition of a technology called ARM (Automated Resource Manager). An EMC official explained that the company's ARM component could do automatically what previously took between 30 and 60 manual steps.

Such automation is the vision of HP, CA, and Veritas. Each mentioned the idea of a policy-based engine that permits automation. For instance, HP introduced a policy-based engine last week with its OpenView Storage Area Manager 3.0.

The SNIA has launched the Storage Management Initiative earlier this year to develop Bluefin - the project name for an open, vendor-neutral application programming interface - into a complete storage management standard. Bluefin aims to create the basis for a complete management solution for interoperable, multi-vendor SANs.

The specification was submitted to SNIA by a group of 16 storage industry vendors (including EMC, HP and Computer Associates) that developed the specification.

SRM offerings


CA's BrightStor Portal enables Web-based management of multivendor SANs


EMC's ARM allows for automatic provisioning of EMC hardware; third-party support is under construction


Veritas' SANPoint Control 3.0 adds Oracle and Microsoft Exchange support


HP's policy-based engine, Active Intelligent Management, makes apps aware of storage


CreekPath's AIM Suite 2.0 features a policy-based engine