Cable & Wireless wins $40m UBS Warburg deal
Global investment company UBS Warburg has signed a $40m (£25.5m), three-year deal to receive global data and IP network and voice...

Download this free guide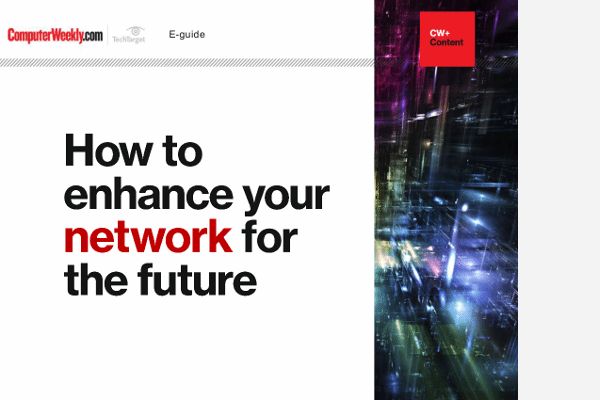 How to enhance your network for the future
Latest on networking developments and directions: NFV, self-optimising networks and IoT enabled smart cities
By submitting your email address, you agree to receive emails regarding relevant topic offers from TechTarget and its partners. You can withdraw your consent at any time. Contact TechTarget at 275 Grove Street, Newton, MA.
You also agree that your personal information may be transferred and processed in the United States, and that you have read and agree to the Terms of Use and the Privacy Policy.

Global investment company UBS Warburg has signed a $40m (£25.5m), three-year deal to receive global data and IP network and voice services from telecommunications company Cable & Wireless.



The deal builds on an existing relationship between the companies. Cable & Wireless already provides telecommunications services to UBS Warburg around the world, and Cable & Wireless's Digital Island division provides Web hosting services to the company.

Cable & Wireless will provide a package of voice and data services, including Asynchronous Transfer Mode and frame-relay networks, leased lines and Internet access to UBS Warburg's offices in about 20 countries, mostly in North America, Europe and Asia.

Under the deal, Cable & Wireless will help UBS Warburg streamline its use of telecommunication service providers to save money, improve service and reduce the number of providers it now uses. The system will be based on IP virtual private network technology.

"We require a global provider that has the capability of meeting our needs and ability to manage future growth," said Chris Puetzfeld, managing director at UBS Warburg. "Cable & Wireless offers network expertise and reliability from a single supplier with good financial strength."

Doug Loewe, president of global enterprise markets at Cable & Wireless, said telecommunications customers are not looking merely for one vendor because of concerns about business continuity in case their providers face problems. They are looking for reliable and economically stable business partners that continue to roll out new services that can help their businesses, he said.

"They have true global connectivity needs," Loewe said, referring to UBS Warburg. In the past, financial services companies would have to build and maintain their own costly global communications networks because vendors had not filled the marketplace, he said. But that has now changed.

"They can concentrate on banking, and we can concentrate on the network," Loewe said.