Technology round-up
Panasonic VoIP in the trunkPanasonic has introduced a voice over IP (VoIP) trunk card for Panasonic ICX and S-ICX telephone...

Download this free guide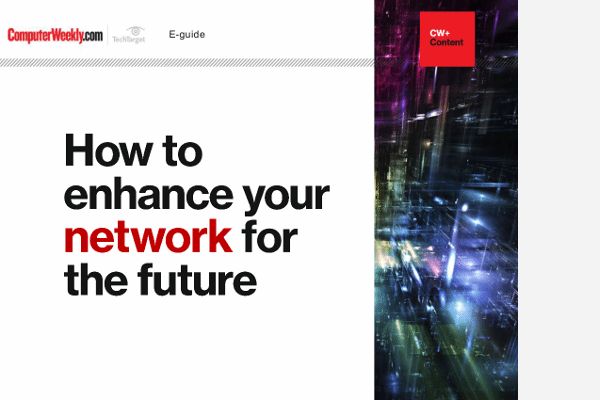 How to enhance your network for the future
Latest on networking developments and directions: NFV, self-optimising networks and IoT enabled smart cities
By submitting your email address, you agree to receive emails regarding relevant topic offers from TechTarget and its partners. You can withdraw your consent at any time. Contact TechTarget at 275 Grove Street, Newton, MA.
You also agree that your personal information may be transferred and processed in the United States, and that you have read and agree to the Terms of Use and the Privacy Policy.

Panasonic VoIP in the trunkPanasonic has introduced a voice over IP (VoIP) trunk card for Panasonic ICX and S-ICX telephone systems. The trunk card is an eight channel IP gateway interface that can be upgraded to 16 channels.



Its main features include point to multi-point configurations; the Q-SIG feature set; central LAN configuration by Web browser, and 64, 32 and 8Kbps encoding selectable by destination.

It has been designed as the 'ideal' integrated solution for businesses with remote branch offices such as estate agents, councils or car dealerships, as just one card can connect to many destinations (connectivity to up to 150 sites).

If a fixed digital circuit is already in place for data traffic, the VoIP uses this link, negating the need to make PSTN calls between sites or to provide dedicated rented voice circuits.

The ability for the Panasonic VoIP trunk card can simultaneously use various CODECs and optimises the use of available bandwidth.
www.panasonic.co.uk

High-performance wireless from Nighthawk
Nighthawk Electronics is shipping the NCL1170 bridge/ router that provides high speed broadband connections between two or more corporate networks, outlying offices and the Internet.

It is best suited for areas where cabling is impossible and for remote links in school and college campuses. The device supports both point-to-point and point-to-multipoint applications and operates in the licence exempt 2.4GHz ISM band.

It provides high transmit power of up to 25dBm, where regulations allow, without the need for expensive external amplifiers. Links can be maintained up to ten miles with 120-degree sector antennas, or seven miles with omni-directional antennas.

Over-the-air data rates are 11Mbps with up to 8Mbps of data throughput for a maximum of 30 users per base station. In point-to-point mode, data throughput rates can be achieved over 8Mbps.

A major feature is a router located at each end of the network that identifies whether traffic is within a building or needs to cross over the router, maintaining network speed.

Additional features are built-in SNMP functionality, which ensures easy integration and management with existing networks, RF network management and diagnostic tools and a receive signal level monitor.
www.nighthawk.co.uk

High path to convergence
Many SMEs may have ambitious expansion plans but limited short-term budgets. Siemens' HiPath 3000 provides a sophisticated platform where customers can evolve at their own pace.

The HiPath 3000 IP Convergence Platform can help customers manage their costs, improve customer contact and maximise effectiveness of employees through one single convergence platform. Based on the Hicom 150 H communication system, the range offers strong, feature-rich PBX features over traditional or IP networks.

The portfolio protects investment in existing platforms, workpoints and applications with an easy and affordable migration upgrade path. Scalable up to 384 extensions, including up to 144 IP extensions, the HiPath 3000 range supports Siemens CorNet N networking across the portfolio.

With the shift into integrated data networks, systems can be deployed in data industry 19 inch racking and can utilise patch panel and RJ45 connection technology, saving valuable office space. It provides a flexible cordless solution at all configuration levels that supports network-wide roaming and hand-over across the entire range.
www.siemenscomms.com

Next generation of copper loop analysis
Fluke Networks has brought out a new copper loop analyser to perform subscriber loop trouble-shooting, fault analysis and location and line qualification.

Designed to be the only loop testing device a technician will need in the field, the 990DSL CopperPro Copper Loop Tester combines 12 different test sets into an easy-to-use hand-held single unit, allowing technicians with varying levels of experience to perform tasks from basic POTS to new DSL services immediately.

CopperPro is user-friendly because it combines a toolbox approach with programmable AutoTests that run the sequenced tests, document the results and provide easy to interpret pass/fail results.

Test functions are combined to help users quickly pinpoint problems and results are displayed graphically on a large LCD display.

CopperPro makes it simple to find root causes of transmission problems such as excessive noise or signal loss. It helps technicians locate and identify loop treatment devices like range extenders, network inter-face devices and main-tenance termination units. Users can identify and locate common physical cable faults, such as shorts, crosses, opens and splits.

Its ADSL AutoTest determines within seconds whether a pair can provide ADSL service and even predicts upstream and downstream rates.
www.flukenetworks.co.uk

Data released to mobile network by Peramon
UK mobile Internet developer Peramon has launched theMOBILIZER Application Generator which, it claims, solves the problem of mobile access to back-office systems via browser-enabled mobile phones or PDAs.

While current systems are limited to proprietary access of static data from platform-dependent mobile devices, Peramon liberates mobile data on any platform or operating system for the first time.

Ultimately, theMOBILIZER increases employee productivity by enabling users to access corporate information as and when they need it, direct from their mobile device.

This innovative tool allows mobile workers to access a full range of business applications, including sales force automation, service management systems, customer relationship management and enterprise resource planning.

Acting as a single connection and integration point, theMOBILIZER aggregates information from multiple sources to execute tasks and provides access to essential business information.

It can be used, for example, to share key business information securely within an organisation and across the extended value chain, allowing workers to access share prices, inventory information and corporate resources from a remote location.

Being platform independent, theMOBILIZER is simple to deploy and maintain, plus up-front implementation only requires a single build for multiple-delivery across the organisation. It is distributed by Westcoast. www.peramon.com

Network management Breakthrough from 3Com
3Com's new management suite is geared towards smoothing the administration process of software upgrades for network devices. Network Supervisor does away with the need for network managers to individually update devices and keep track of software versions for different devices.

The Advanced Package for Network Supervisor helps network managers to easily distribute new software updates across a large network through a new feature called bulk agent upgrade. This capability works by downloading the latest software versions for 3Com devices via the Web through a 'live update' feature, so that network managers can keep equipment up-to-date and quickly take advantage of new software enhancements.

The Advanced Package also increases the node limit for Network Supervisor, allowing it to manage larger-sized networks up to a total of 2,500 IP devices.

The Network Supervisor graphically discovers, maps and displays network links and IP devices, including 3Com NBX telephones and third-party products from vendors including Cisco, HP and Nortel.

It maps devices and connections to easily monitor stress levels, set thresholds and alerts, view network events, generate reports in user-defined formats and launch device configuration tools.
www.3com.com/3ns

PDAs for all for £30
Can't sell in a high-end PDA with all the trappings? Then settle for the basic - the personal digital organiser (PDO).

Billed as the replacement to the filofax, the PDO is the bridge to the full-blown PDA. Olivetti Tecnost has launched its Exprit and Existo range which addresses the needs of the mass workforce needing access to basic information but for whom the IT buyer would never countenance the cost of a Palm or iPAQ.

Weighing 250g the range has touchscreen access and PC synch and the Existo has 348KB of memory. Cost - a mere £30.
www.olivettitecnost.com

Lucent Technologies' next-generation IP router
Lucent Technologies has released its next generation Internet protocol (IP) services routers and a suite of software packages for service providers rolling out customer premise (CPE)-based IP services solutions.

The new Access Point 300, 600 and 1500 routers enable service providers and Global Business Partners to provide enterprise customers in small offices, branch offices or regional headquarters with a range of services from basic Internet access to the most advanced IP applications.

The Access Point solutions support four new software packages giving customers the flexibility to tailor their applications to specific IP services needs.

The Base Package supports managed bandwidth with integrated QoS, firewall security and IP management. The Advanced Networking Package includes everything in the Base Package as well as advanced routing, mobility and layer two tunnelling capabilities.

Other packages include the QVPN for IPSec VPN implementation and an all-encompassing IP Services package.
www.lucent.com/products/accesspoint

SMS revenue quickly and on the cheap
Opera Telecom, specialist provider of SMS premium services, has unveiled a programme that allows its reseller partners to generate revenue immediately without the need for costly start-up infrastructure.

With its own direct SMS Gateway connection, switch and the in-house capability to develop and manage SMS services end-to-end as an international offering, resellers need only provide the marketing support.

"This enables our resellers to sell unbranded products and services as their own, quickly and efficiently on a revenue share basis," said Gary Corbett, managing director. Opera Telecom also provides services direct to some of the world's leading portals, broadcasters and publishers.
www.operatelecom.com