OASIS takes Web services standards to next level
Two groups within the Organization for the Advancement of Structured Information Standards (OASIS) are developing Web services...

Download this free guide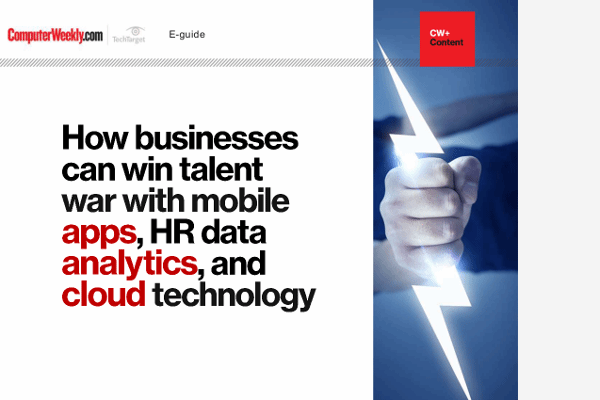 How businesses can win talent war with mobile apps, HR data analytics and cloud technology
Latest articles on HR best practices: mobile apps disrupting the annual staff appraisals; reasons for and against open-source software; and Rolls-Royce case study.
By submitting your email address, you agree to receive emails regarding relevant topic offers from TechTarget and its partners. You can withdraw your consent at any time. Contact TechTarget at 275 Grove Street, Newton, MA.
You also agree that your personal information may be transferred and processed in the United States, and that you have read and agree to the Terms of Use and the Privacy Policy.

Two groups within the Organization for the Advancement of Structured Information Standards (OASIS) are developing Web services specifications for content delivery and end-user interfaces.



Known as Web Services for Interactive Applications (WSIA) and Web Services for Remote Portals (WSRP), the groups, which were created to advance user-facing Web services and enable Web services and other applications to plug and play with portals and portlets, met last week.

Building on this momentum, Sun Microsystems and IBM plan to announce at JavaOne today (25 March) a portlet specification submitted to the Java Community Process (JCP) that complements the OASIS WSRP group.

So far the core Web services standards - SOAP (Simple Object Access Protocol), XML, UDDI (Universal Description, Discovery and Integration) and WSDL (Web Services Description Language) - have focused on system-to-system interoperability.

The standard expected to emerge from the WSIA, however, would improve any service that requires users to fill out online forms, for example, said Dwight Davis, an analyst at Summit Strategies.

"[Existing] Web services are not quite that simple because a number of Web services require an interface and human interaction," Davis said.

Recognising this need, a host of companies have backed the WSIA initiative, including IBM, BEA Systems, Bowstreet Software, Divine, Documentum, Epicentric and Plumtree Software. The lineup of WSRP supporters looks similar, with Documentum, Epicentric, Divine, IBM, Sun, Hewlett-Packard, Iona Technologies and Oracle all backing WSRP.

"There is a certain set of base functions that we are trying to do jointly between the two committees and then WSIA will try to go beyond that and do some things that are not required for portals," explained Charles Wiecha, manager of the next-generation user experience frameworks department at IBM Research and chair of the WSIA committee.

The technologies expected to drive the WSIA standard include IBM Research's WSXL (Web Services Experience Language) and the combined work on Web services graphical interfaces done by Epicentric and Divine.

IBM has also included in its WSXL proposal plans for XLink (XML Linking Language) to be used to hook together a patchwork of Web services to make them appear as a single application.

"Essentially what we want is for a collection of presentation components to have some coordinated behaviour amongst themselves as opposed to being distinctly separate," Wiecha said.

Meanwhile, the WSRP group is focusing on improving content delivery via portlets by using a common set of APIs in such a way that any interface supporting the APIs can deliver information from any data source supporting the APIs.

"You need to take the approach where content and applications are inextricably linked. Our main mission is to move Web services standards along as quickly as possible so there are more and more end points and consumers of Web services," said Robert Flannigan, chief technology officer of Divine, a member of WSIA.

Furthermore, companies are working together to decrease the cost of integrating applications into portals, said Chad Williams, product manager at Epicentric and a member of the WSIA and WSRP committees. Williams added that customers have had to use proprietary, vendor-specific APIs to integrate applications into a delivery server such as a portal.

"Using WSIA and WSRP, customers will be able to integrate once and publish everywhere," Williams said. He added that the standards do not compete with .net or J2EE (Java2 Enterprise Edition), as most of the committee companies offer products built on one of those platforms. "It's an application-layer standard that will be leveraged in both environments," he added.

That said, although Sun is part of the WSRP committee, neither Sun nor Microsoft has signed on to participate in WSIA and Microsoft has not joined either group, Wiecha said. Sun and IBM, however, are developing the JSR (Java Specification Request) 168 specification to let portals hook into back-end systems and data sources.

The future for Web services

Emerging standards push Web services further down the path toward pervasive use:


2002: Web services are being used within the firewall


2004: Web services to contain external users


2005: Web services to be available for dynamic search and use


The standards game

Web services standards development is marching forward with the formation of new working groups:


WSIA: Web Services for Interactive Applications, working on an app integration framework


WSRP: Web Services for Remote Portals, creating a spec for plugging Web services in to portals


JSR 168: JCP-backed spec announced by IBM and Sun for linking portals to back-end systems and data sources


Read more on Web software