New iMacs launched at Macworld
Apple Computer has kicked off Macworld Expo by launching cheaper iBooks, faster iMacs and a number of powerful additions to its...
This Article Covers
RELATED TOPICS

Download this free guide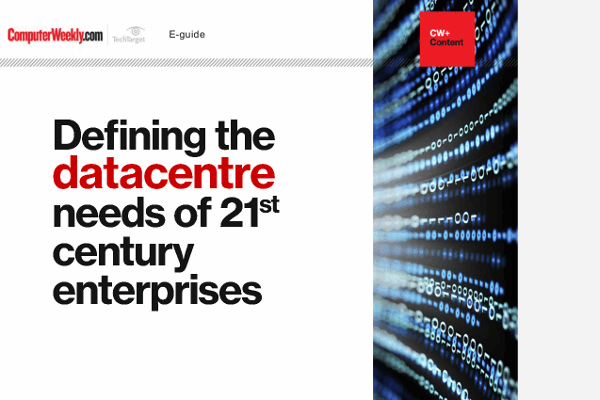 Defining the datacentre needs of 21st century enterprises
A collection of our most popular articles on datacentre management, including: Cloud vs. Colocation: Why both make sense for the enterprise right now; AWS at 10: How the cloud giant shook up enterprise IT and Life on the edge: The benefits of using micro datacenters
By submitting your personal information, you agree that TechTarget and its partners may contact you regarding relevant content, products and special offers.
You also agree that your personal information may be transferred and processed in the United States, and that you have read and agree to the Terms of Use and the Privacy Policy.

Apple Computer has kicked off Macworld Expo by launching cheaper iBooks, faster iMacs and a number of powerful additions to its line of desktop and portable computers.



By far the most radical change was to Apple's popular iMac desktop computer which was unveiled in its new form during a keynote speech by Apple chief executive officer Steve Jobs. Powered by what Jobs called "amazing technology," the computer features a 15in flat-panel display, a faster processor and more memory than its predecessor - all packed into an unprecedented new design.

With a base 26.4cm (10.6in) in diameter and not much taller than a CD jewel case, the new design marks another style innovation for Apple.

Each model of the iMac will include a 15in flat-panel LCD as well as five USB ports and two FireWire ports, located on the back of the machine. The high-end model, which will be the first to ship later this month, will include an 800MHz G4 processor, 256Mbytes of RAM and a 60Gbyte hard drive. Priced at $1,799 (£1,249), the model will also feature Apple's Superdrive, which reads and writes both CDs and DVDs.

A $1,499 (£1,041) model, due to ship in February, will run a 700MHz G4 chip and ship with 256Mbytes of RAM and a 40Gbyte hard drive. It will include a combination drive for reading and writing CDs and reading DVDs. A low-end mode, costing $1,299 (£902), will ship in March featuring a 700MHz chip, 128Mbytes of memory, a 40Gbyte hard drive and a rewritable CD drive.

Since its launch in 1988 the iMac has sold more than six million units Jobs said. But as the colourful computer aged and drew what some people considered worthy competition from competing PC makers, some users and analysts said the iMac grew stale.

"Then we had our big idea," Jobs said, referring to the new iMac design. "The whole computer is in this tiny little vase," he added, offering a visual explanation for the new CPU design.

Apple's iBook computer range has also been updated. The company has lowered the cost of its low-end 500MHz portable computer by $100 to $1,199 (£833). The high-end model, which will now feature a combination CD-RW/DVD-ROM drive will cost $1,499 (£1,041). The mid-range iBook has been eliminated from the line-up.

Jobs also unveiled a larger iBook, weighing 5.9lbs, that touts a 14in display which he called the iBook's "big brother". With a price tag of $1,799 (£1,249), the new portable computer will come with a 600MHz PowerPC G3 processor, 256Mbytes of memory, a 20Gbyte hard drive, a battery that provides six hours of regular use and a combination CD-RW/DVD-ROM drive.

Apple will ship all its new models with the new Mac OS X Version 10.1 operating system as the default boot-up operating system. A dual boot of Mac OS 9 will still be available on the computers to run older applications.