Corporate IT spending to remain weak in 2002 -- and other news


Bleak outlook for technology budgets
In the first of four weekly features on the state of the IT sector, the Financial Times takes a look at...

Download this free guide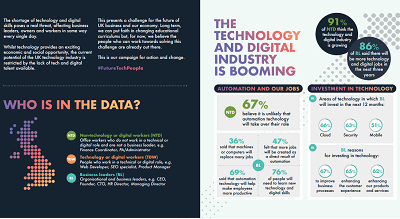 Infographic: Future-proofing UK technology
The current potential of the UK technology industry is restricted by the lack of tech and digital talent available. Read through this challenge for the future of UK business and our economy.

By submitting your personal information, you agree that TechTarget and its partners may contact you regarding relevant content, products and special offers.

You also agree that your personal information may be transferred and processed in the United States, and that you have read and agree to the Terms of Use and the Privacy Policy.



Bleak outlook for technology budgets
In the first of four weekly features on the state of the IT sector, the Financial Times takes a look at IT spending and the technology sector's recent rally in the US stock market. The newspaper reports that the 40% rise in US technology stocks since September could be subject to a sharp correction. Analysts, says the newspaper, are predicting "another technology bubble", basing their opinions on the fact that corporate IT spending will remain weak in 2002.

Kingston to cut capital spending despite 44% profits rise
The Hull-based telecoms company, Kingston Communications, has announced a cut in capital expenditure as part of its drive for profitability. The company recently completed construction of its own national network, which tripled pre-tax losses for the six months to 30 September to £17.5m.

The Financial Times reports that improved cost structures and rapid quarterly drops in capital spending helped Kingston beat market expectations with a 44% rise in underlying profits. The Daily Telegraph reports that Kingston's chief executive, Steve Maine, said the weakening economy had not noticeably affected trading, except in the group's broadcast division.

Nokia takes cautious view
The Finnish mobile communications company, Nokia, has declared the slump in mobile handset sales over. However, the company expressed caution in its forecast of sales growth.

The Financial Times reports that the company's sales forecasts for 2002 were roughly in the middle of ranges predicted by its rivals - with expected global sales of 420-440m. The Guardian reports that the company's forecasts "depressed" the mobile telecoms industry.

Dixons buys stake in Italian group
The high street consumer electronics retailer, Dixons, has paid £64m for a 24.3% stake in UniEuro, Italy's second biggest electrical retailer. The company has an option to acquire the remaining 75% of the Italian company before July 2003. Dixons already has a retail presence in Scandinavia, France and Spain.

The Financial Times reports that Dixons' share price rose by 6.5p to 243p. The Daily Telegraph reports that the company also sought to place part of its 181m stake in the French internet company, Wanadoo, following the expiry of a lock-in agreement. The Independent reports that Dixons finance director, Ian Livingstone, said the companies would benefit from improved buying power and expertise.

More delays for Merant results
The Anglo-US software group, Merant, has delayed the publication of its quarterly results for the second time in four months.

The Financial Times reports that the company's shares fell 7p to 88.5p following the announcement. According to the newspaper, the group said it needed more time to restate the result following the disposal of its enterprise data business, DataDirect. The Independent reports that the company will now release its second quarter figures on 5 December, when it expects to reort a second quarter operating loss of between £2.3m and £2.8m.

Best of the rest
The Financial Times reports

Cambridge University's vice-chancellor has announced plans to modernise the university's top law-making body. The announcement comes in the wake of a damning report, which blamed the university's management for the "disastrous" introduction of a new Oracle system.



The downturn in technology share prices has pushed London Merchant Securities into the red. The company reported interim pre-tax losses of £26.6m for the six months to 30 September. Over half of the company's venture capital portfolio is invested in technology companies.



The Wellbeing Network, a digital television station jointly owned by Granada and Boots, is expected to close after it has run up more than £30m in losses over 18 months. The network's Web site, wellbeing.com, will remain open.