IBM pins hope on pixie dust
IBM launched three hard disk drive products this week - the Deskstar 120GXP, the Travelstar 60GH and the Travelstar 40GN - that...
This Article Covers
RELATED TOPICS

Download this free guide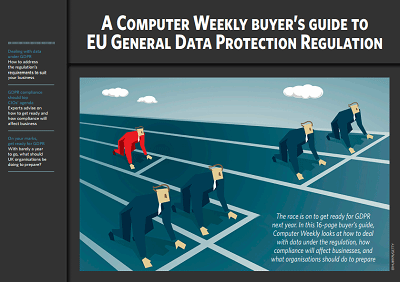 Computer Weekly's Buyer's Guide to GDPR
The race is on to get ready for GDPR next year. Computer Weekly looks at how to deal with data under the regulation, how compliance will affect businesses, and what organisations should do to prepare.

IBM launched three hard disk drive products this week - the Deskstar 120GXP, the Travelstar 60GH and the Travelstar 40GN - that include its magnetic coating technology, nicknamed pixie dust



The pixie dust technology, announced by IBM last May, gained its nickname because of the atomic size of the metal used to store data on the hard drive. It is officially called antiferromagnetically coupled (AFC) media, and works by putting a three-atom-thick layer of Ruthenium - a precious metal similar to platinum - between two magnetic layers on a disk.

The technology allows hard disk drives to store four-times as much data per square inch of disk area as previous hard drives, IBM said in a statement.

IBM predicts that, with the pixie dust technology, its hard-disk densities will reach 100Gbyteytes per square inch by 2003, meaning that its hard drives could come with capacities of 400Gbyte for desktop drives and 200Gbyte for notebooks.

IBM's Deskstar 120GXP features a 3.5in desktop hard drive with a 120Gbyte capacity and a speed of 7200 rpm (rotations per minute), the company said. The Travelstar 60GH has 60Gbyte of storage capacity and runs at 5400 rpm, making it the highest-capacity, highest-performing 2.5in notebook drive on the market, according to IBM. The 40GN family of 2.5in notebook hard disk drives can offer capacities of 40Gbytes, 30G bytes, 20Gbytes or 10Gbytes at 20Gbytes per disk and runs at 4200 rpm, IBM said.

Fujitsu uses similar technology, SF Media, a recording medium made up of two magnetic layers separated by a thin layer of Ruthenium. Fujitsu expects its first commercial products with SF Media to debut in the first or second quarter of 2002.

Maxtor and Seagate Technology offer competition in terms of storage capacity, although they use different technology. Maxtor's extra-large hard drive for storage, the DiamondMax D540X, can stack two double-sided platters to achieve 80Gbyte capacities while spinning at 5400 rpm. Seagate's U series drives are being billed as the first-ever 40Gbyte-per-platter drives.

Both drives were announced in June, but in contrast to IBM and Fujitsu's new technology, Maxtor and Seagate are not moving to new processes, opting instead to refine their existing technologies.
Read more on Data centre hardware