Interoperability is key as HP aims Sans at e-services providers
Hewlett-Packard has introduced a new family of products and services aimed squarely at the emerging e-services provider market,...
Hewlett-Packard has introduced a new family of products and services aimed squarely at the emerging e-services provider market, writes Nick Enticknap.
The company has extended its storage area network (San) capability by adding more interoperability. HP Sans now support host bus adapters from Agilent, Emulex, JNI and Q-Logic; fabric devices from Ancor, Brocade and Crossroads; and storage products from EMC and Storage Technology as well as its own devices.

Download this free guide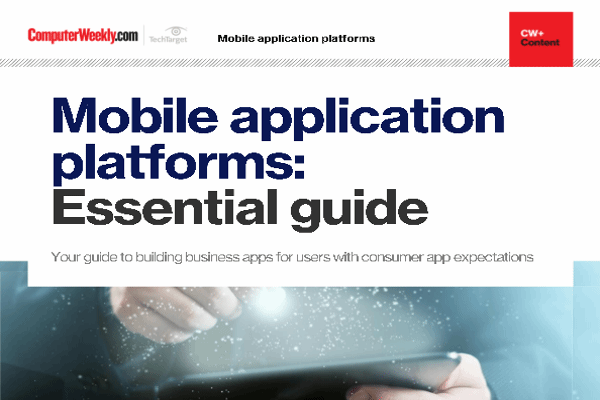 Building business apps for users with consumer app expectations
One of the mantras of modern enterprise application development is that business applications should be as easy to use as mass market consumer applications. In this guide, Computer Weekly examines the issues around mobile applications and the platforms emerging to help developers.
By submitting your personal information, you agree that TechTarget and its partners may contact you regarding relevant content, products and special offers.
You also agree that your personal information may be transferred and processed in the United States, and that you have read and agree to the Terms of Use and the Privacy Policy.
With San usage still in its infancy, HP has also strengthened its hand in the platform-attached storage market by declaring war on Sun, its major storage competitor in the Unix server market.
HP storage sub-systems already support Windows NT and 2000 as well as HP/UX. Now there is "a full portfolio of products for Solaris consolidation with HP storage," according to HP enterprise storage manager Matthew Harding.
The Solaris product set includes Veritas management software and high-availability clustering capability, plus the ability to back-up Solaris applications on tape libraries either directly connected to the server or within a San. The products are supported by a full range of services.
Hewlett-Packard has also released the XP512 disc sub-system, a product of the company's OEM relationship with Hitachi, which launched the same product last month as the Lightning 9900.
The XP512 is aimed particularly at the e-services sector, or "people with a rapid increase in capacity requirement and a need for 100% fault-tolerant technology with large-scale capability and performance," according to Harding.
The XP512 and the 9900 have the same hardware, offering up to 24Tbytes capacity, 32Gbyte cache and 6.4gbps crossbar switch technology. The differences are that HP has tuned the firmware for use under HP/UX and also offers its own range of storage management software.
Harding says the XP512 offers more than three times the performance of its predecessor, the XP256, which remains in HP's catalogue.
For more on storage products visit www.itnetwork.com
Read more on Business applications