Win2K downtime pledge
Hardware supplier Stratus last month unveiled a Windows 2000 server it says will offers 99.999% availability.
Hardware supplier Stratus last month unveiled a Windows 2000 server it says will offers 99.999% availability.
Cliff Saran
The new Stratus FT Server 6500, launched at Spring Comdex in Chicago, uses three Pentium II Xeon motherboards to provide triple redundancy. Up to four processors and 4Gbytes of memory can be installed on each motherboard. Stratus has also redeveloped Microsoft's device driver software in an attempt to reduce the risk of operating system crashes.

Download this free guide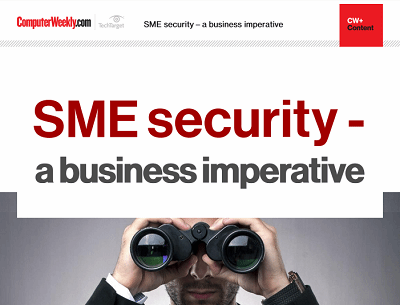 The secret to winning - SMEs and cyber security
50% of SMEs plan to spend less than £1000 on cyber defenses in the next year and only 42% of SMEs are concerned about ransomware. Anyone see a problem? Computer Weekly outlines some solutions to this growing naive trend.
By submitting your personal information, you agree that TechTarget and its partners may contact you regarding relevant content, products and special offers.
You also agree that your personal information may be transferred and processed in the United States, and that you have read and agree to the Terms of Use and the Privacy Policy.
Applications are run in step on the three motherboards simultaneously. When one fails, Stratus said another motherboard takes over running the application. Through a service contract with Stratus, a new motherboard is then dispatched to the end user automatically, to replace the failed component.
Stratus feels its approach to Windows 2000 reliability can compete with the current approach of clustering servers for high availability.
Entry level prices for the dual redundant Windows 2000 system (with two motherboards) start at about £20,000.
Steve Bradshaw, senior technical consultant at Stratus said, "In a cluster server, when an application fails it can take as mush as 30 seconds for another server to take over control."
The Stratus server, he said, runs the application simultaneously on three motherboards such that if one fails another kicks in immediately.
Dan Kusnetzky, research director at IDC questioned whether such high levels of availability on Windows 2000 were really needed today.
According to IDC's research, non-mission critical applications such as file and print are the main areas where Windows is currently being deployed. "As Windows begins to be used in mission critical environments such as financial services, servers such as Stratus will have a place. But users will have to question whether they can justify spending the extra money for more up time."
Stratus' Win 2000 server and services
A level of hardware availability surpassing 99.999% in select models
Fault-tolerant computing for the same price as less capable high-availability systems, and 80% less than Stratus' previous price for entry-level fault tolerant computers
Software fault tolerance with extensive software availability and recovery features and tools
Advanced 24/7 product service and support for all models
Cooperative multi-supplier customer support in real time to quickly resolve system issues, regardless of cause
Read more on IT for small and medium-sized enterprises (SME)