NetApp wins big at DECCW
NetApp has had a big win at the NSW Department of Environment, Climate Change and Water.
The NSW Department of Environment, Climate Change and Water has signed up to acquire more than 100 NetApp devices.
In a press release issued today, NetApp says "The DECCW engaged NetApp to redesign its storage environment due to the increasing volume of information requiring backup and storage," as the Department's "... multi-vendor legacy storage system was reaching the point where it was difficult to handle the increasing growth in storage requirements."

Download this free guide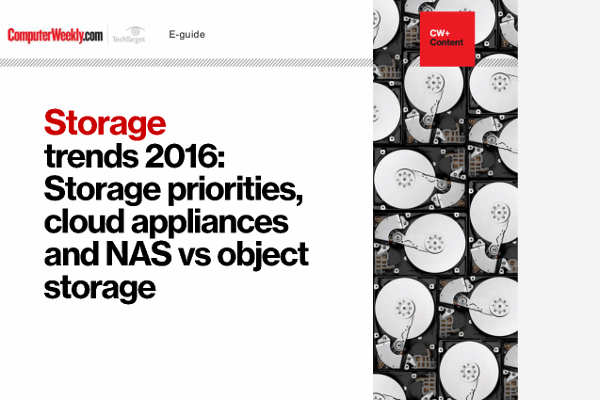 Storage trends 2016: Storage priorities, cloud appliances and NAS vs object storage
Our guide to the latest shifts in the Storage to-do list for IT departments, cloud appliance providers, and what to do with large volumes of unstructured data
By submitting your email address, you agree to receive emails regarding relevant topic offers from TechTarget and its partners. You can withdraw your consent at any time. Contact TechTarget at 275 Grove Street, Newton, MA.
You also agree that your personal information may be transferred and processed in the United States, and that you have read and agree to the Terms of Use and the Privacy Policy.

The DECCW was not available for immediate comment, but NetApp's statement quoted David Schneider, the Department's Director of Information Management and Communication Technology, for the DECCW, as saying "Our data storage requirements continue to grow almost exponentially, so we were looking for a flexible, scalable storage solution that was able to keep up with our growth and meet the high-availability requirements of our dispersed workforce."
"We chose NetApp for several reasons," Schneider's quote continues. "First, the NSW Government has undergone an ICT expenditure review, which puts pressure on all departments to seek ways to operate more efficiently. The NetApp solution offered us results for a very competitive cost, thereby helping us to meet our targets. Also, we needed a partner who could help us embrace web 2.0 and manage the growing volumes of data being generated. NetApp has provided a solution that has enabled us to solve several business issues we were facing and offers us the potential to generate significant business breakthroughs in the coming years. We expect the new solution will provide a substantial return on investment once the installation is complete, further improving our ability to consolidate data and significantly improve our disaster recovery and IT service capabilities."
The deal will see more than 100 NetApp FAS storage systems installed in DECCW's branch offices around the state. The release also states that "NetApp has introduced data deduplication technology to reduce the amount of data being stored to disk, streamlining the backup process and reducing the amount of data being sent over the network. Snapshot technology was also introduced to improve efficiency and enable frequent point-in-time backups. These technologies helped solve the need for increasing storage demands, limiting the amount of storage space required and greatly improving disaster recovery capabilities. "
The release also says the solution "will be rolled out in phases and is expected to be completed in two to three years, with 60 x FAS systems being implemented across NSW by the end of 2010."