ASIC sticks with Sun for storage, servers
The Australian Security and Investments Commission has decided to stick with its Sun storage and servers, but has dropped the company's backup software.
The Australian Security and Investments Commission (ASIC) is seeking a new provider of maintenance services for a substantial fleet of Sun storage and servers, according to a Tender issued yesterday.

Download this free guide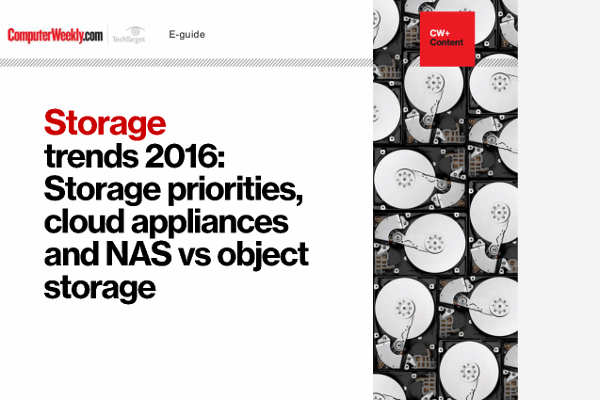 Storage trends 2016: Storage priorities, cloud appliances and NAS vs object storage
Our guide to the latest shifts in the Storage to-do list for IT departments, cloud appliance providers, and what to do with large volumes of unstructured data
By submitting your email address, you agree to receive emails regarding relevant topic offers from TechTarget and its partners. You can withdraw your consent at any time. Contact TechTarget at 275 Grove Street, Newton, MA.
You also agree that your personal information may be transferred and processed in the United States, and that you have read and agree to the Terms of Use and the Privacy Policy.

The winning provider will be contracted for 12 months, with the option of two extensions of the same period. The three years of work on offer suggests that ASIC is making a long-term commitment to Sun, which was recently acquired by Oracle.
The news that a customer of this magnitude of and prestige is sticking with Sun is not all good for Oracle, however, as ASIC recently decided to use Symantec backup software for its Solaris-powered servers. The list of ASIC's storage assets below includes Sun's StorEdge software, suggesting that at least one part of Sun's imcumbency has been disrupted.
Another interesting aspect of the tender is the requirement for providers to be expert in secure data destruction, as the tender states:
Where the Contractor replaces any component of the Supported Hardware that might contain Customer Data, the Contractor must immediately take all reasonable action to remove and return to the Customer or totally and permanently erase all the Customer Data contained in it. Where the Customer Data on a replaced item cannot be removed or erased prior to removal from the Customer premises, the Contractor must seek specific instructions from the Customer on how to deal with the item.

The Contractor acknowledges and agrees that the Customer may, at its discretion, require the secure destruction of the component or elect to retain that component itself.

Security is also a concern, with ASIC cool on the idea of remote maintenance of its systems, with the tender specifying:
The Customer will only permit limited outbound remote access to its IT systems for the performance of the Maintenance Services. The Contractor must comply with the Customer's requirements in respect of remote access, as notified to the Contractor from time to time. Contractor Personnel must attend Customer premises for support activities as required.

The tender seeks a new provider to maintain a long list of Sun hardware(listed below). The winning tender will be expected to provide phone and onsite services, including replacement of parts, battery replacements, bug fixes and firmware upgrades.
ASIC's Sun hardware fleet

Type

No.

Detail

[Storage]

1

CSM200A-730G-0x1x5x146GC-RR

[Storage S/W]

1

StorEdge 9900 Software - 9900 RMgr Op-C Up 1TB/7th-15th

[Storage S/W]

1

9900 RsMgr Cmplt 1TB(7th-15th)

[Server]

1

Sun Fire V440 - SF V440:2*1.593GHz,4GB,4*73GB

[Server]

1

Sun Fire X2100 - X2100 XATO Model

[Storage]

1

Sun StorageTek 6140 - ST6140-4-2336G-1x1x16x146C-RR

[Storage S/W]

2

9900 RsMgr Cmplt 1TB(7th-15th)

[Storage]

1

StorEdge 3510 - 3510-.73TB-5x146/15-2RAID-ACRR

[Storage]

1

StorEdge 3510 - 3510-.73TB-5x146/15-2RAID-ACRR

[Storage]

1

StorEdge 3510 - 3510-3.6TB-12x300/10-JBD-ACRR

[Storage]

1

StorEdge 3510 - 3510-3.6TB-12x300/10-JBD-ACRR

[Storage]

1

StorEdge 3120 - SE3120-292-2x146/15-JBOD-AC-RM

[Server]

1

Sun Fire E6900 - Sun Fire E6900 1.8GHz Bundle

[Server]

1

Sun Fire Uniboards - UNIBRD: 4 USIV+ @1.8GHz w/32GB

[Storage]

1

StorEdge 3120 - SE3120-292-2x146/15-JBOD-AC-RM

[Storage]

1

CSM200-2336G-0x1x16x146C-RR

[Tape S/W]

1

HSC/MVS 6.2 18T

[Switch]

1

Brocade Silkworm Switches - Brocade 3900 32-port FC sw

[Switch]

1

Brocade Silkworm Switches - Brocade 3800 16 port FC sw

[Tape]

1

SL9741E Base 9740 230V 10 Dr

[Tape]

1

SL9741E Base 9740 230V 10 Dr

[Tape]

1

SL9740 Base Library

[Tape]

1

SL9740 Base Library

[Tape]

1

Sun StorageTek LTO2 - Used LTO2-IBM-FC SL7/L1400 Dr

[Tape]

1

Sun StorageTek LTO2 - Used LTO2-IBM-FC SL7/L1400 Dr

[Tape]

1

Used, STK L180, 84 Slots, HV

[Tape]

1

Sun StorageTek 9840 - Used T9840C FI,9310/L5500/974x

[Tape]

1

Sun StorageTek 9840 - Used T9840C FI,9310/L5500/974x

[Tape]

1

Sun StorageTek 9840 - Used T9840C FI,9310/L5500/974x

[Tape]

1

Sun StorageTek 9840 - Used T9840C FI,9310/L5500/974x

[Tape]

1

Sun StorageTek 9840 - Used T9840C FI,9310/L5500/974x

[Tape]

1

Sun StorageTek 9840 - Used T9840C FI,9310/L5500/974x

[Storage]

1

StorEdge 3510 - SE3510-1752GB-12x146-JBOD-ACRR

[Storage]

1

StorEdge 3510 - SE3510-1752GB-12x146-JBOD-ACRR

[Storage]

1

StorEdge 3510 - SE3510-730GB-5x146-2RAID-AC-RR

[Storage]

1

StorEdge 3510 - SE3510-1752GB-12x146-JBOD-ACRR

[Server]

1

Sun Fire V245 - SFV245,2x1.5,2GB,2x73GB,2xPSU

[Storage]

1

ST6140A-2-12TB-1x1x16x750GL-RR

[Storage]

1

ST6140A-2-12TB-1x1x16x750GL-RR

[Server]

1

Sun Fire V240 - SFV240,2x1.28Gz,8x1GB,2x73GB,2XPSU

[Server]

1

Sun Fire 280R - 280R/2x1.015GHz/2GB/2x36GB/DVD

[Server]

1

Sun Fire 280R - SF280R/1x900+/1GB/1x36/DVD/OS

[Server]

1

Sun Fire V240 - SFV240,1x1GHz,512MB,1x73GB

[Server]

1

Sun Fire 280R - SF280R/1x900+/1GB/1x36/DVD

[Server]

1

Sun Enterprise 250 - E250/400MHz/512MB/18GB/10K/1PS

[Server]

1

Sun Enterprise 220R - E220R,450MHz,1GB,2-36GB,1PS

[Server]

1

Sun Fire 280R - 280R/2x1.015GHz/2GB/2x36GB/DVD

[Server]

1

Sun Fire V120 - Sun Fire V120 650Mz 1GB 2x36G

[Server]

1

Sun Fire V120 - Sun Fire V120 650Mz 1GB 2x36G

[Server]

1

Sun Fire X2200 - X2200M2: 2x2218 4x2GB no HDD

[Server]

1

Sun Fire X2200 - X2200M2: 2x2218 4x2GB no HDD

[Server]

1

Sun Fire X2200 - X2200M2: 2x2218 4x2GB no HDD

[Server]

1

Sun Fire X2200 - X2200M2: 2x2218 4x2GB no HDD

[Server]

1

Sun Fire X2200 - X2200M2: 2x2218 4x2GB no HDD

[Server]

1

Sun Fire V440 - SF V440:4*1.28GHz,8GB,4*73GB

[Server]

1

Sun Fire V240 - SFV240,2x1.5GHz,8GB,2x73GB

[Server]

1

SE T1000 6CRE 1.0GHZ 2GB 1X160

[Server]

1

SE T1000 6CRE 1.0GHZ 2GB 1X160

[Server]

1

ST6140A-4-4800G-1x1x16x300J-RR

[Server]

1

Sun Fire V880 - SFV880 2@750 MHz,4GB, 6-36 GB

[Server]

1

Sun Fire V880 - SFV880 4@900 MHz,8GB, 6-73 GB

[Server]

1

Sun Fire V880 - SFV880 4@750 MHz,8GB, 6-36 GB

[Server]

1

Sun Fire V880 - SFV880 4@750 MHz,8GB, 6-36 GB

[Server]

1

Sun Enterprise 450 - E450/400MHZ/1GB/18GB/10K/2PS

[Server]

1

Sun SE T5220 Base Class

[Server]

1

SFV440:4*1.593GHz,32GB,4*146GB

[Server]

1

Sun Fire V240 - SFV240,2x1.5GHz,8GB,2x73GB