How to select a storage reseller
Experienced storage pros share advice on how to find the right storage reseller for your storage project.
Most organisations are likely to employ the services of a reseller at some stage. The majority of IT vendors deal directly only with the largest accounts, and even then may bring in partners with specialist skillsets if they do not have the necessary expertise in-house.

As a result, resellers tend to be the outward face of the vendor. They act as the local contact for placing orders and providing technical consultancy and support. The value gained in selecting and working with the right partner cannot be underestimated.

Download this free guide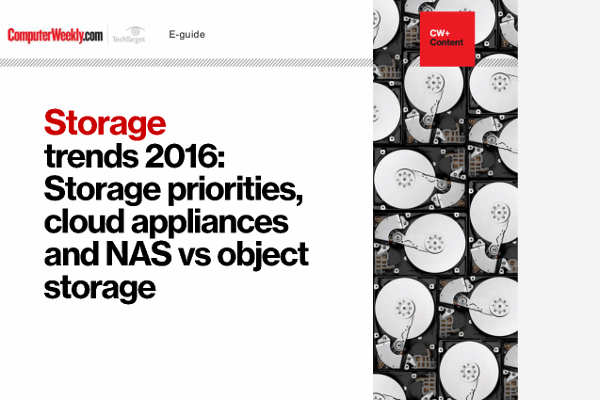 Storage trends 2016: Storage priorities, cloud appliances and NAS vs object storage
Our guide to the latest shifts in the Storage to-do list for IT departments, cloud appliance providers, and what to do with large volumes of unstructured data
By submitting your email address, you agree to receive emails regarding relevant topic offers from TechTarget and its partners. You can withdraw your consent at any time. Contact TechTarget at 275 Grove Street, Newton, MA.
You also agree that your personal information may be transferred and processed in the United States, and that you have read and agree to the Terms of Use and the Privacy Policy.

If something goes wrong, you can't go to the boss and say, 'The reseller did it.'
Greg Gawthorpe
technical operations team leaderCMC
In addition, "sometimes resellers can get better discounts because they deal in higher volumes and you can leverage off the back of their economies of scale," says Greg Gawthorpe, technical operations team leader at CMC, an online financial trading house. "They won't pass on all the discount as they need to make a profit, but you can gain from the situation."

CMC signed up Solid State Solutions (S3) when it decided to expand use of BakBone's NetVault: Backup product as part of a wider upgrade of its nearline storage for backup. The aim was not only to handle rising requirements for storage, but also to introduce full redundancy and instant failover between the company's new datacentre and a second disaster recovery site.

There are two main categories of resellers: storage specialists (such as S3) and generalist IT providers. Storage specialists usually work with mid-sized organisations and provide value-added services in areas such as virtualisation, disaster recovery and information management. Generalist IT providers tend to deal with smaller companies and often perceive storage simply as an extension of existing infrastructure. They are more likely to focus on providing value-added services in relation to servers and applications and their storage skills may be more basic.

Finding the right reseller can be challenging, according to Hamish Macarthur, founder of analyst firm Macarthur Stroud International. "Finding the right people is not always straightforward," he says. "You have to be pragmatic about it." If you have drawn up a list of preferred storage vendors, you might be able to use the reseller locator search engine on their web sites. But if the decision as to which storage vendor to use is not clear-cut, there are other approaches.

"You can speak to people you've used before to see whether they have the relevant skills or ask other people you know to see who they use," says Gawthorpe. "You can also look at online forums and web sites and adverts in the press."

Once an organisation has established a list of possible reseller candidates, it can be useful to cold-call them in order to gauge their interest. "The first phone call is crucial," says Martin Taylor, converged network manager at the Royal Horticultural Society. "If we don't get a good response, they won't get a second one, but you can tell what the company is like as soon as you speak to them. Some will know what they're talking about and fall over backwards to get your business, whereas others will just show mild disinterest."

The Royal Horticultural Society enlisted the services of IT infrastructure specialist Fordway to help deploy two 12 TB SANs from Compellent Technologies, in order to house its library of more than 200,000 high-resolution images and provide a more robust disaster recovery environment.

After creating a long-list of prospects and getting a written summary of each reseller's possible approach to the project in order to save time in weeding out unsuitable candidates, the next step is to undertake a beauty parade to discuss potential options in more depth.

Meet face to face
"You can't do this from a web site or over the phone," says Macarthur. "People today do seem to like to do things remotely, but it's not a good way to establish a good working partnership. You really have to talk face-to-face and go through the cycle carefully."

Moreover, Macarthur recommends using resellers in a similar vein to consultants because, "through that process, you'll get to understand how willing they are to work with you and to see the skills they can actually demonstrate".

Taylor agrees. "It's important to understand the goals you'd like to achieve so that you can ask people about how they would solve the problem and assess their response in relation to what you want to do," he says. "It's a good way of assessing what their technical skills are so it's almost like a mini tender."

This is important because most decisions come down to two factors: technical experience and corporate culture. As Taylor explains, "Storage is a minefield, technically speaking" as there are many possible means of achieving a similar end. If customers are not clear about their aims, they can end up being bamboozled into purchasing over-engineered offerings that do not necessarily fit their requirements.

In terms of the business relationship, Taylor adds, "You're going to be working pretty closely together so they have to be mindful of the way you do things. They have to be able to fit in with you – not the other way round. It took us six months to choose the right partner because this is a central system for us so there wasn't room for performance or commissioning problems."

When assessing its own reseller candidates, the Victoria & Albert Museum found it useful to devise a list of 12 questions, the answers to which each had a pre-determined score. These questions covered issues such as the partners' flexibility, its approach to relationships, system cost and complexity.

"In each case, we were asking, "Can you do this and provide evidence that you can?'" says Sarah Winmill, head of information systems services at the museum. "We gave so many points for a positive response. Everyone inevitably says they can do something and some will be able give evidence of that, but fewer will have done a similar project recently and to the right scale, and that's important."

After a series of initial meetings, Winmill drew up a short-list of three candidates, before bringing each in again for more detailed discussions. But when making the final decision, the project manager removed cost details from the tender document.

"We wanted to focus mainly on relationships and technical merit, which is a different way of looking at things and really freed us up to think about what we really wanted," Winmill said. "Interestingly, however, we chose the cheapest option because the more expensive ones were vastly over-engineered."

In the end, the museum engaged Viglen, which resells Hitachi Data Systems' storage offerings, to help it replace an existing 8 TB SAN with a 60 TB SAN. The goal was to have enough capacity to store increasing numbers of digital assets.

Credit checks now part of the process
But the selection process does not end there. In today's economic climate, it is important to undertake credit checks to ensure the chosen reseller will be around in six months' time. It is also vital to speak to other customers at reference sites in comparable vertical markets who have undertaken a similar project in order to check out credentials and learn from their experiences.

"What it comes down to is, 'Are these guys going to make me look good?'", says Gawthorpe. "If they come in and slowly but surely build up a picture of my requirements over several meetings and I feel listened to, I'm going to have a much warmer feeling than people coming in and telling me what I need. The bottom line is that if something goes wrong, you can't go to the boss and say, 'The reseller did it.' "

UK storage resellers

BT Basilica and BT Lynx

UK locations: Bellshill in Scotland, Birmingham, Chesterfield, Letchworth, London, Reading
Established: 1978
Storage product/vendor capability/expertise: Hewlett-Packard, Hitachi Data Systems, IBM, NetApp, Symantec
Number of consultants: 70
Vertical sector expertise: public sector and commercial
Support levels available: Range from 9am-5pm next business day to 24x7 support, 365 days per year, with a 4-hour SLA



Computacenter

UK locations: Belfast, Birmingham, Bristol, Cardiff, Edinburgh, Hatfield, London, Manchester, Milton Keynes, Reading, Watford
Established: 1981
Storage product/vendor capability/expertise: CommVault, Computer Associates, EMC, Hewlett-Packard, Hitachi Data Systems, IBM, NetApp, Oracle, Sun, Symantec
Number of consultants: storage: 35; technology solutions: 120; engineers throughout the UK: 2,000
Vertical sector expertise: finance, telco, public sector, media, retail, professional services
Support levels available: 24x7 service and support desk, 24x7 managed services, pre-sales, design and implementation services


DCG Datapoint

UK locations: Birmingham, Edinburgh, London, Lightwater in Surrey, Manchester
Established: 1995
Storage product/vendor capability/expertise: EMC, NetApp, Quantum, Symantec
Number of consultants: 10
Vertical sector expertise: public sector, commercial
Support levels available: 24x7 managed services, 24x7 service and support desk, data management, migration, implementation and technical architecture services


Fordway Solutions

UK locations: Godalming, Oswestry
Established: 1991
Storage product/vendor capability/expertise: Compellent, CommVault, EMC, Hewlett-Packard, Sun Microsystems, Riverbed, Quantum, Symantec
Number of consultants: 29
Vertical sector expertise: public sector, third sector
Support levels available: 24x7 helpdesk, remote and hardware support, 7am-7pm on-site hardware maintenance for supported products


Logicalis

UK locations: Cardiff, Livingstone in Scotland, London, Slough, Warrington
Established: 1988
Storage product/vendor capability/expertise: Hewlett-Packard, IBM
Number of consultants: 90
Vertical sector expertise: banking, education, health, insurance, manufacturing and distribution, public sector, retail, services and travel
Support levels available: 24x7 remote monitoring, maintenance, onsite support, co-location and hosting, 24x7 managed services


MTI Technology

UK locations: Godalming, Surrey
Established: 1998
Storage product/vendor capability/expertise: F5 Networks, EMC, Quantum, Overland Storage, Riverbed, Sepaton, Symantec
Number of consultants: 60
Vertical sector expertise: education, finance, government, healthcare, telco
Support levels available: Flexible support contracts up to 24x7 and 2-hour response times


S3 (Solid State Solutions Ltd)

UK locations: Basingstoke, Leeds
Established: 1989
Storage product/vendor capability/expertise: HDS, Netapp, Bakbone, Symantec, Data Domain, Nexsan, Onstor, Isilon, bespoke solutions
Number of consultants: 15
Vertical sector expertise: finance, telco, public sector, media, retail, research and life sciences, professional services
Support levels available: Tailored support including 24x7 service and support desk, 24x7 managed services, pre-sales, design and implementation services


SCC

UK locations: Birmingham, Bristol, Edinburgh, Glasgow, Langley, Leeds, Livingston in Scotland, London, Newcastle, Nottingham, Warrington
Established: 1975
Storage product/vendor capability/expertise: EMC, Fujitsu Siemens Computers, Hewlett-Packard, Hitachi Data Systems, IBM, NetApp
Number of consultants: 50
Vertical sector expertise: finance, retail, manufacturing, telco, distribution, public sector, systems integrators
Support levels available: full enterprise support


Tectrade Group

UK locations: Edinburgh, Goldalming, Harrogate
Established: 1991
Storage product/vendor capability/expertise: Acopia, Brocade, Cisco, Compellent, Data Domain, Diligent Technologies, EMC's WysDM, Hewlett-Packard, IBM, NetApp, Symantec
Number of consultants:36
Vertical sector expertise: local government, NHS, media, financial services
Support levels available: 24x7 support for backup and storage environments


2e2 Group

UK locations: Birmingham, Bracknell, Bradford, Channel Islands, Livingston in Scotland, London, Milton Keynes, Newbury
Established: 1993
Storage product/vendor capability/expertise: EMC, Hewlett-Packard, IBM, Sun Microsystems, Symantec
Number of consultants: 15
Vertical sector expertise: public sector, finance, publishing and media, oil and gas
Support levels available: 24x7 managed services, 24x7 service and support, data management, migration, implementation and technical architecture services