UK debut for storage compression appliance
Ocarina claims a tenfold reduction of file data on primary storage. Alpha-testing UK photo sharing site set to put appliance into production
Silicon Valley startup Ocarina Networks has come out of stealth mode with an appliance that it claims can reduce file size on primary NAS storage, as well as files that have already been compressed using industry-standard algorithms. Its one publicly-named customer – London-based Photobox – is set to put the hardware into production from next week.

The vendor will make its appliance and software generally available next Monday. The data reduction package includes the Ocarina Optimizer, the Ocarina Reader and the Ocarina Manager. The Optimizer performs the compression functions, the Reader decompresses files for viewing and the Manager is the user interface.

Download this free guide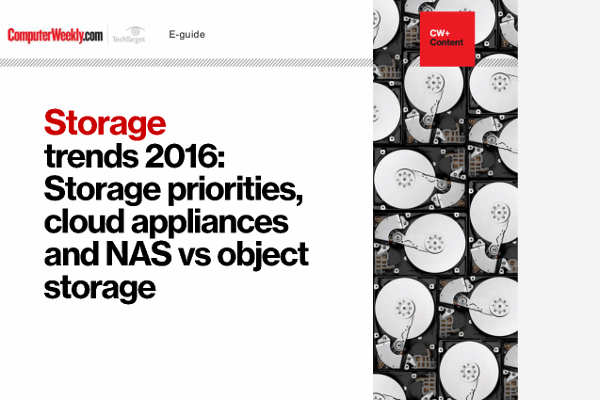 Storage trends 2016: Storage priorities, cloud appliances and NAS vs object storage
Our guide to the latest shifts in the Storage to-do list for IT departments, cloud appliance providers, and what to do with large volumes of unstructured data
By submitting your personal information, you agree that TechTarget and its partners may contact you regarding relevant content, products and special offers.
You also agree that your personal information may be transferred and processed in the United States, and that you have read and agree to the Terms of Use and the Privacy Policy.

Without data reduction we'll exhaust capacity in the next three months
Graham Hobson
chief technology officerPhotobox
The Ocarina Optimizer is a 1U appliance with 16 processors. It moves into the data path to crawl files on an existing NAS storage system, then back out again to process them using Ocarina's data reduction algorithms, referred to as ECO (extract, correlate, optimise).

The Ocarina Reader is a software agent that can be installed on workstations or servers in order to unroll files the Optimizer has compressed for later viewing. The Reader is needed to restore optimised files, and any Reader in any location can be used to read any file in Ocarina format.

The Optimizer and the Reader can be used with CIFS and NFS file systems on both monolithic or clustered NAS systems and support about 100 proprietary file formats, including Microsoft Office, video and image files.

Tackling pre-compressed and multimedia files

Once the machine has copied a file out of the primary data store, it pulls apart the file to extract the component objects. For example, a PowerPoint file could be broken down into text and .jpg or .png graphics. From there, each storage object is compressed, and redundant objects are consolidated across files. Finally, the Ocarina box returns the optimised file back to the primary storage device. The data is protected against corruption with a set of checksum algorithms inserted into the header of each file.

Ocarina claims a 10:1 data reduction ratio, an improvement on standard compression technologies that usually hit a ratio of about 2:1. It achieves that ratio by pulling apart standard file formats, many of which are natively compressed, and applying proprietary algorithms to further compress the objects within those files. These algorithms also make it possible to create a three-dimensional cube of numeric values to represent a photo or video image.

"So if you take some photos on a day at the beach, our algorithms will be able to look for similar boundaries, such as light levels, that it's seen before," said Carter George, Ocarina vice president of products. "It's like computer vision."

European photo-sharing site expects to save 200 TB

So far, Ocarina has one publicly-named user in the Web 2.0 multimedia market and claims more big names in that space are testing the product. Graham Hobson, chief technology officer of Photobox, a photo sharing and printing site, said his company has been testing Ocarina products since their pre-alpha stage two years ago. He intends to put them into production next week.

Hobson said that for the first six years after the company was founded in 2000, the cost of data storage fell each year at a rate that kept up with Photobox's capacity growth. But about two years ago, that trend stopped. "We're dealing with bigger files now," Hobson said. The monthly cost of rack space in the company's co-location data centres in Europe has increased around fourfold because of increasing energy prices.

Photobox currently has about 800 TB of capacity on Isilon clustered NAS systems, with about 600 TB used. "At this rate, without data reduction, we'll exhaust that capacity in the next three months," according to Hobson. With Ocarina, the company is hoping to make that capacity last through September, a savings of about 200 TB.

Primary data reduction still a bleeding-edge market

Ocarina is not the first to market with a data reduction product for primary storage. Storwize also compresses data on primary NAS systems. However, Storwize sits in the data path and passes through files it can't optimise. The Storwize appliance is also needed to recover data, and a separate Storwize appliance is needed to receive and restore data at secondary sites.

Ocarina is using this difference between the products to market itself as less risky than Storwize's "bump in the wire" approach, something Hobson said gave him more confidence in the Ocarina product.

But Ocarina's data reduction isn't for everyone. In addition to worries about data corruption that secondary storage data deduplication makers have also faced, Ocarina's "computer vision" means it is literally reading files, a big risk for a security-conscious environment.

At the start, Ocarina will chase primarily websites that store many photos and videos. "You're not going to see this in use at financial institutions or government organisations," said Andrew Reichman, a Forrester Research analyst. "The product may be a little ahead of its time in terms of user acceptance."
Read more on Data protection, backup and archiving