Cloud services still need a poster boy
Wipro Technologies' announcement of a platform designed to offer software as a service adds more momentum to a cloud computing movement that still lacks a flagship deal.

Download this free guide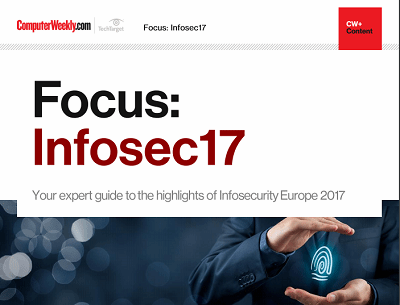 From forensic cyber to encryption: InfoSec17
Security technologist Bruce Schneier's insights and warnings around the regulation of IoT security and forensic cyber psychologist Mary Aiken's comments around the tensions between encryption and state security were the top highlights of the keynote presentations at Infosecurity Europe 2017 in London.
By submitting your personal information, you agree that TechTarget and its partners may contact you regarding relevant content, products and special offers.
You also agree that your personal information may be transferred and processed in the United States, and that you have read and agree to the Terms of Use and the Privacy Policy.
Most major IT service providers are developing cloud computing platforms to enable them to deliver services through the internet.
These platforms are a necessity for any supplier because cloud computing is increasingly in demand for delivering IT services. It takes away the large upfront cost of buying software and the high cost of maintenance.
Analyst firm Gartner predicts that the worldwide market for SaaS will be worth $8bn in 2009, a 21.9% increase on 2008.
But the hype needs a benchmark to become a reality.
Big deal
This means one of the big suppliers has to sign a major deal with a large customer, says consultant Andy Gallagher of Compass Management Consulting. "People are talking about rolling out the next generation of software in the cloud, but we have not seen a large-scale implementation of cloud computing at a customer level."
He says the ultimate deal that will kick-start the adoption of cloud services within large companies will need three characteristics. It will need to be a multi-million pound deal signed by a FTSE 100 company that provides business-critical applications in the cloud.
Duncan Aitchinson, head of Europe at sourcing consultancy TPI, says there are big deals in the pipeline. "There will be some big deals in the next 12 months that carry the cloud computing label."
Critical concerns
Peter Brudenall, lawyer at Hunton & Williams, says customers are asking for advice about potential data protection risks associated with receiving business-critical applications through the cloud.
"Businesses will probably start piloting some services, but probably not business-critical applications."
Robert Morgan, director at Hamilton Bailey, says the middle of next year is likely to see a number of cloud services projects, but a large-scale deal is some way off.
A major cloud services deal is likely to be made soon, and once it does widespread business acceptance will quickly follow. But suppliers still have work to do in convincing customers that their data is secure in the cloud.
Read more on IT risk management