Internet Explorer 8 (IE8) could cause some enterprise applications that use browser-based user interfaces to fail. IT directors must ensure their enterprise applications will be compatible with IE8, which will be launched soon, before rolling it out to end-users.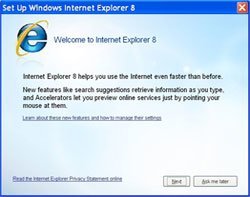 Older PC desktop hardware may also be incompatible with IE8. Experts urge IT departments to test it thoroughly before deploying, to avoid costly support issues.
Tests run by software compatibility specialist ChangeBase found that 15% of applications could fail due to a security feature of the browser, known asDEP/NX, that prevents downloadable components from running.
Greg Lambert, technology director at ChangeBase, saysany application that runs in Internet Explorer and is not compatible with DEP/NX will crash on start-up and will not function.
"The impact of this obviously depends on how many web applications an organisation has. At the moment, looking at all applications, we are finding that up to 15% of enterprise applications will fail," he says.
SAP has begun compatibility testing, but says, "Until it passes all of our tests to SAP certification level, we are recommending IE6 and IE7."
In his blog posting, Steven Chan, senior director in the Oracle Applications Technology Integration group, warns that IE8 features will impact Oracle'sE-Business Suite enterprise software.
"Internet Explorer 8 changes its rendering and handling of web pages in a number of important ways. This directly affects its E-Business Suite compatibility, says Chan.
Salesforce.com is currently running compatibility tests. "IE8 is still in beta so we do not officially support it. We are putting it through our certification process, but there are no official dates set yet. Initial tests have not surfaced any significant problems," the company says.
RightNow, a supplier of CRM software as a service (SaaS), says, "We will not officially certify IE8 until the browser is generally available."
A blogger on the Microsoft Developer Network says IE8 is not compatible with the NetSuite SaaS CRM package.
"NetSuite does not work with IE8 period. Please have someone get an account, log onto the website and try the JavaScript drop-down boxes anywhere on the site - they stay open and never close. Please fix this. NetSuite is used by a lot of people (including me)."
NetSuite says it is putting IE8 through its certification process and "initial tests have not surfaced any significant problems".
Like Windows Vista, Internet Explorer introduces security features that will break older applications and may even fail on older PCs.
Microsoft has made a tool available from its Download Center to prevent Windows Update from automatically installing IE8 when the browser is released.
IT departments should use this tool to disable Windows Update. They should also check with their application providers when enterprise applications will be supported on IE8.
DEP/NX
DEP/NX is designed to prevent buffer overflow type attacks by stopping hackers from running viruses and trojan horses.

In Internet Explorer 7, DEP/NX was disabled by default for compatibility reasons. Several popular add-ons, including the Logmein.com remote desktop service and GoToMeeting web conferencing tool, were not compatible with DEP/NX and crashed when Internet Explorer loaded them with DEP/NX enabled.

While developers of many popular add-ons have since released updated extensions compatible with DEP/NX, some add-ons may not be updated before Internet Explorer 8 becomes available.

Source: ChangeBase
---
Email Alerts
Register now to receive ComputerWeekly.com IT-related news, guides and more, delivered to your inbox.
By submitting your personal information, you agree to receive emails regarding relevant products and special offers from TechTarget and its partners. You also agree that your personal information may be transferred and processed in the United States, and that you have read and agree to the
Terms of Use
and the
Privacy Policy
.