Prepare a recession budget for 2008, says Gartner
With economists growing pessimistic about the economy in 2008, Gartner says CIOs should prepare an alternative recession budget.
In a weakening economy, CIOs should heed this advice: Better to have and not need, than to need and not have.
If a CIO has fluff built into the budget then shame on him.
Ron Maillette
CIOEducation Corporation of America
In a research note, Gartner Inc. vice president Ken McGee advised IT leaders that they should prepare two budgets for 2008: One should be based on the marginal growth IT organizations have seen in their budgets so far this decade. The second budget should be based on a spending decrease of at least 10%.

McGee is planning for a recession and cited several surveys and forecasts issued in recent months.

For instance, economic research firm Global Insight Inc. in Waltham, Mass., lowered its projection for U.S. gross domestic product growth from 2.5% to 2% for 2008. Global Insight has also predicted a 30% chance of a recession (PDF). In September a poll of 52 economists conducted by The Wall Street Journal found a 36% chance of a recession in 2008.

Download this free guide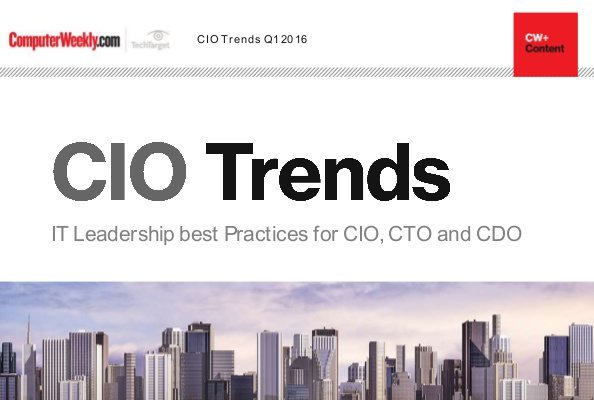 Your exclusive guide to CIO trends
A collection of our most popular articles for IT leaders from the first few months of 2016, including: - Corporate giants recruit digitally-minded outsiders to drive transformation - Analytics platforms to drive strategy in 2016 - Next generation: The changing role of IT leaders.
By submitting your email address, you agree to receive emails regarding relevant topic offers from TechTarget and its partners. You can withdraw your consent at any time. Contact TechTarget at 275 Grove Street, Newton, MA.
You also agree that your personal information may be transferred and processed in the United States, and that you have read and agree to the Terms of Use and the Privacy Policy.

McGee is recommending that CIOs look at eliminating assets that are more than two years past their depreciation cycle. They should also look for opportunities to eliminate redundant hardware and software assets, maintenance contracts and excess capacity within wide area networks.

"The fact that most companies' senior leadership might ask IT [to make cuts] is very plausible," said Ron Maillette, executive vice president and CIO at the Education Corporation of America, a Birmingham, Ala.-based parent company of several for-profit educational institutions. "But if IT is really doing their job and is really aligned with the strategic direction and spend of the company, then I'm not sure that a 10% cut would be that easy."

Maillette said IT organizations that are truly aligned with the business could only make those cuts if the business is prepared to execute fewer strategic initiatives that require IT investments.

"You can always take 10% out, but it comes down to what you're willing to hurt in order to do it," Maillette said. "If a CIO has fluff built into the budget, then shame on him. But if he's making strategic investments, then you have to ask leadership a very hard question: Are you saying to me that what you had as a long-term strategy is no longer a long-term strategy, and I should no longer invest in it? It's not a rhetorical question. It should be asked."

Maillette was running IT for a division of Coca-Cola Co. when the country was last hit by a recession around 2000. At the time, he was responsible for 123 applications. When it came time to make budget cuts, Maillette took a different tack. He didn't just make cuts -- he eliminated redundancies that he hadn't yet had time to tackle. But instead of just returning all the savings to the business, he used some of it to make strategic investments that made his organization more operationally efficient.

"I consolidated a number of those applications," he said. "I had a lot of redundancy. My budget was up around $48 to $50 million. When I retired [from Coca-Cola] in 2002, my budget was $37 million. I took out $12 million and reinvested some of it in other technologies, such as the Web, which a lot of people were running away from at the time. And I implemented handhelds for the sales force and implemented a piece of ERP. I took costs out in one place, reinvested the money in some areas and was able to give money back in the process."

Maillette said a lot of CIOs are tempted to just cut heads when the budget-cut mandate comes down. He said CIOs should get more innovative and creative and think of ways to improve the way the business works.

"Do that by taking overlap and redundancy and superfluous stuff you haven't gotten around to replacing, and in effect meet the objective of the request while improving the business," he said. "At some bigger companies you don't always look at things with a magnifying glass as you should."

George Bock, senior director of IT at Sole Technology Inc., a Lake Forest, Calif.-based maker of sports footwear and apparel, said his budget is growing in 2008 and he doesn't think he'll need to prepare a recession budget.

"I have never done a recession budget and don't really plan on it in the future," Bock said. "If I have been doing my job up front, I am very well connected to the executive staff in the strategic planning process so there are no surprises."

If he were forced to make cuts, Bock said he would probably start with projects, then maintenance cost. That would be followed by vendors and service providers.

"The cuts would most likely put pressure on support services and increase our problem-resolution time," he said. "From a project basis, we have sound project management processes established where the company knows priorities are always being reviewed with the business, so aside from something not being completed the decision to shift gears would be followed."

Let us know what you think about the story; email: Shamus McGillicuddy, News Writer
Read more on IT jobs and recruitment