Hasty move to shared services risks inflexibility, says Socitm's Jos Creese
A hasty move to shared services driven by a need to slash budgets could lead to greater inflexibility in certain areas of the public sector, says Jos Creese,...
A hasty move to shared services driven by a need to slash budgets could lead to greater inflexibility in certain areas of the public sector, says Jos Creese, president of Socitm.

Download this free guide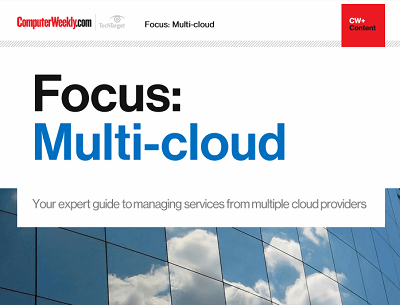 The maturity of the enterprise public cloud
Many IT leaders are increasingly coming round to the idea that sourcing services from one or more providers might be the best way to go. Join us as Computer Weekly takes a closer look at the multi-cloud approach and what providers are doing to capitalise on the trend.
By submitting your personal information, you agree that TechTarget and its partners may contact you regarding relevant content, products and special offers.
You also agree that your personal information may be transferred and processed in the United States, and that you have read and agree to the Terms of Use and the Privacy Policy.
"Moving to shared services is inevitable in a modern world, but I am worried that the pace of change could lead to some bad decisions. We don't want a situation where bodies are locked into inflexible arrangements," he told Computer Weekly at the 2011 Public Sector Efficiency Expo in London on Wednesday.
Considered partnership agreements should be put in place to reduce the costs of duplication across IT functions, and ensure that the best quality of service is delivered, he says. "It shouldn't be a case of larger councils gobbling up smaller ones. If there is a council that provides a particularly good service, then they should have responsibility for delivering it on a region-wide basis," he added.
In Soctim's recently published Routemap document, an on-going consultation, it was suggested that more public sector IT staff could eventually work for outsourcers instead of local government. But Creese disagreed that this would necessarily be the case.
"I don't think we will see more outsourcing based on traditional models," he said. "Overall we will see a reduction in the number of IT staff working in the public sector, to reduce duplication of roles as services join up. But in some specialist areas we may see an increase in certain areas of in-house IT skills," he said.
Technology is key to making further efficiency savings, says Creese. "If there is a silver bullet, it probably is technology. But the real issue is in exploiting it."
Billions could be saved in cutting inefficiencies due to too many replicated contracts, which are tailored in such a way they cannot be changed, he says. "There is plenty of scope for efficiencies to be made in public sector and in IT alone - around £14bn to £15bn."
A careful balance between centralism and localism is also needed, he adds. "We need small, fleet of foot companies in some areas, as well as aggregation with some of the bigger suppliers where we are frankly paying over odds," he said,
Flexible working is a long way behind the private sector, adds Creese. "It is not doing enough by any means. Organisations in the IT sector such as BT and Vodafone have staff primarily working on mobile basis, something we don't do for public services even where mobility is needed to deliver better services," he said.
Read more on IT outsourcing