Sixteen MPs are to trial iPads in the House of Commons. Parliament's IT department has picked members of the administration committee to conduct the experiment.
The MPs will look at whether iPads would be useful during committee work, but they could potentially be given to all MPs in the future, said Alan Haselhurst, chairman of the administration committee.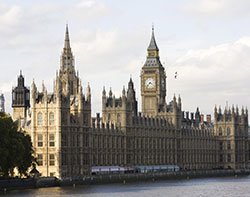 Alan Haselhurst told Computer Weekly using iPads could save the House of Commons money and improve efficiency.
"There are possible savings by using electronic forms rather than paper," he said. "At the moment this is just a discreet exercise in the committee to see if there could be savings."
The use of iPads could also prevent confusion from papers getting misplaced, he added.
The previous speaker allowed MPs to use Blackberrys in the House of Commons, which are now prevalent among MPs. Due to the lack of desks, laptops have been ruled out, but tablets could be less intrusive, said Haselhurst.
Tablets have already been used in Parliament, with a member of the House of Lords having recently made a speech from notes on his iPad.
However, misuse of devices could be a problem. "[MPs] could use tablets to do something different, such as reading a book in comfort without the chair being aware. So they could arguably have a distracting affect," said Haselhurst.
IT for MPs is currently purchased centrally and, if tablets are given the all-clear, it is anticipated the cost would come from members' laptop allowances, said Haselhurst.
The experiment will run from May to July. The committee will report on its experiences in August.
Email Alerts
Register now to receive ComputerWeekly.com IT-related news, guides and more, delivered to your inbox.
By submitting you agree to receive email from TechTarget and its partners. If you reside outside of the United States, you consent to having your personal data transferred to and processed in the United States.
Privacy