How to share infrastructure is likely to become the hottest topic in rolling out next generation broadband access (NGA), especially in rural areas, it emerged at the NextGen10 conference in Birmingham this week.
Simon Towler, head of the Department of Business, innovation & skills' broadband programme, said it was an issue on which he had spent several years, and was the one thing - even more than sorting out the business rates issue - he felt could accelerate the present momentum in NGA roll-out.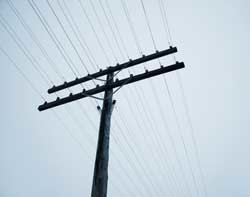 There were many types of infrastructure to share. They ranged from BT's poles and ducts, which are regarded as crucial to expanding access in rural areas, through electricity poles and pylons, as well as sewers and other wayleaves, to fibres and wavelengths in optical fibre cables.
Towler said the government was keen to reuse infrastructure where it existed. This included public sector networks, which are presently not allowed to resell spare capacity to private or community third parties.
Towler said the government was pleased with progress on a draft reference offer on physical infrastructure access (PIA) to BT's ducts and poles, expected in mid-January.
However, Geo chief executive Chris Smedley said separately that network operators who hoped to use BT poles and ducts in their bids for BDUK's rural broadband pilot projects would not be allowed to use them to replace BT's leased lines to businesses, or to offer backhaul to exchanges or cell masts.
Asked if this would distort the market, Towler said the pilots were designed to elict lessons about what needed to change.
These were complicated issues that cut across different rights and responsibilities, including health and safety, Towler said. He said the government was working across departments and with the Country Landowners' Association on a standard wayleave agreement. This would help network operators plan their networks with full knowledge of what money, if any, they would have to set aside for wayleaves.
Virgin Media's director of advanced technologies and innovation, Dale Barnes, welcomed this. Accounting for wayleave payments when landowners saw wayleaves as a new revenue stream made it impossible to budget accurately, deterred investors and delayed network roll-outs, he said.
Towler said the government was reluctant to legislate for change, preferring interested parties to agree ways forward. But it reserved the power to enforce change if reviews showed no progress, he said.
Towler said the government was minded to change regulations that assumed communications infrastructure would be buried in ducts to allow greater use of poles and hence faster network build. He noted that some communities living in areas of outstanding natural beauty might prefer to bury cables rather than spoil the view. He seemed to suggest that this decision might be taken locally.
A change to building regulations would require all new houses to be "broadband ready", Towler said. This would be in the new Publicly Available Specification 2016, due out soon, he said.
Commenting on culture minister Jeremy Hunt's ambition to have the "best" broadband network in Europe by 2015, Towler said headline download speed was a poor measure by itself. The government would define "best" using a basket of measures. These included "the user experience", competition, penetration and cost, as well as speed, he said.
He confirmed the government's agnostic view of communications technology. While some thought it was "fixated on fixed line networks", the government believed there were vital roles for fixed and mobile wireless as well as satellite, Towler said.
Email Alerts
Register now to receive ComputerWeekly.com IT-related news, guides and more, delivered to your inbox.
By submitting your personal information, you agree to receive emails regarding relevant products and special offers from TechTarget and its partners. You also agree that your personal information may be transferred and processed in the United States, and that you have read and agree to the
Terms of Use
and the
Privacy Policy
.