The government is to press ahead with its controversial patient summary care record, but the details of what it will contain will be known only later this month.
This was revealed by the Department of Health's director general for informatics, Christine Connelly on Thursday.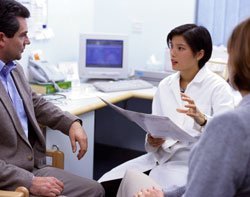 The summary care record (SCR) is a centralised record of patient data that will be available to healthcare workers on an as-needed basis. Privacy rights groups and academics have strongly criticised it as a threat to patient privacy.
Connelly said clinicians and patient representative groups were discussing what the record should contain. They would present their views at the end of September.
Cambridge professor and SCR critic Ross Anderson said he and colleagues had previously rated the SCR as "amber" in a database state report for the Joseph Rowntree organisation. If the SCR was not abolished, they would "have to rate it red" in the follow-up report that is now under way, he said.
Anderson said, "The SCR does substantial privacy harm, and is clearly contrary to human rights law, without doing any good - and it costs us a shed-load of money that simply cannot be justified while hundreds of thousands of people get fired."
He added that the SCR was redundant, as its functions were supposed to be done by MedAlert. He said a report by University college London's Trisha Greenhalgh had found that the consent process was so broken that most of the people whose records had already been uploaded were quite unaware of that fact. "This makes the SCR contrary to human rights and data protection law," Anderson said.
Matthew Swindells, chair of the British Computer Society's Health special interest group, said the BCC was broadly in favour of the SCR. The ability to share patient data safely would improve patient care and save lives, he said.
The BCS had no position on the ethics of the matter, but was ready to help manage the risk-benefit issues associated with the SCR. This might be by trading off data for functionality and speed of response in an emergency. "There must be a way for individual patients to have a say in that," he said.
Anderson also called on the government to scrap the national childhood obesity database (NCOD). "Now that the government has stopped public information campaigns generally, there is no conceivable reason for NCOD's continued existence, if indeed it ever had any justification at all," he said.
Email Alerts
Register now to receive ComputerWeekly.com IT-related news, guides and more, delivered to your inbox.
By submitting you agree to receive email from TechTarget and its partners. If you reside outside of the United States, you consent to having your personal data transferred to and processed in the United States.
Privacy