BT and TalkTalk urge High Court review Digital Economy Act
The UK's two largest internet service providers, BT and TalkTalk, have asked the High court to review the Digital Economy Act (DEA) with respect to its conformance...
The UK's two largest internet service providers, BT and TalkTalk, have asked the High court to review the Digital Economy Act (DEA) with respect to its conformance with key European legislation on privacy, fairness and the ISPs' function as a "mere conduit".

Download this free guide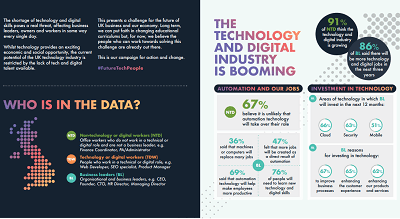 Infographic: Future-proofing UK technology
The shortage of technology and digital skills poses a real threat, affecting business leaders, owners and workers in some way every single day. Whilst technology provides an exciting economic and social opportunity, the current potential of the UK technology industry is restricted by the lack of tech and digital talent available. This presents a challenge for the future of UK business and our economy. Long term, we can put faith in changing educational curriculum but, for now, we believe the people who can work towards solving this challenge are already out there.
By submitting your personal information, you agree that TechTarget and its partners may contact you regarding relevant content, products and special offers.
You also agree that your personal information may be transferred and processed in the United States, and that you have read and agree to the Terms of Use and the Privacy Policy.
The controversial act, which attracted more than 300 amendments in the Lords, was passed in April in the "wash-up" before parliament closed for the recent national election, in a processes said by Lord Erroll to be "an abuse of the parliamentary process". A civil disobedience campaign began within minutes of the act's passage.
The act aims to fight illegal file sharing, among other things. The timetable for introducing anti-piracy measures based on industry consultation was scrapped by former business secretary Peter Mandleson after he met Hollywood mogul David Geffen.
BT and TalkTalk said in a statement that the anti-piracy provisions had not received enough scrutiny before becoming law.
"As well as having procedural concerns, BT and TalkTalk believe the measures proposed to try to prevent online copyright infringement could harm citizens as well as impact both businesses," the statement said.
The ISPs believe the act may not be compatible with European rules designed to ensure that national laws are proportionate, protect users' privacy, restrict the role of ISPs in policing the internet and maintain a single market.
"If clarity is not gained at this stage then BT, TalkTalk and other industry players may end up investing tens of millions of pounds in new systems and processes only to find later that the act is unenforceable and the money wasted," they said.
TalkTalk chairman Charles Dunstone said implementing the act would cost the country "hundreds of millions". "Many people believe (the act was) unfair, unwarranted and won't work," he said. It was no surprise that the act was top of the public's wish list of laws to repeal, as collected by deputy prime minister Nick Clegg, he said.
BT Retail CEO, Gavin Patterson, said the ISPs had no choice. "We have to do this for our customers who otherwise run the risk of being treated unfairly," he said.
A spokesperson for the Department of Business, Innovation and Skills, said the act protected the UK's £57bn creative economy from online copyright infringement, which loses £400m a year to copyright theft.
"We believe the measures are consistent with EU legislation and that there are enough safeguards in place to protect the rights of consumers and ISPs and will continue to work on implementing them," she said.