Facebook is again changing the way it handles members' privacy.
The move is in response to growing concern among members and governments that its shifting approach to safeguarding members' privacy was giving third parties too much access to personal data that they could exploit without users' permission.
Founder and CEO Mark Zuckerberg, writing in the Washington Post, outlined Facebook's principles. He said:
Members have control over how their information is shared.
Facebook does not share members' personal information with people or services they do not want.
Facebook does not give advertisers access to members' personal information.
Facebook does not and never will sell any member's information to anyone.
It will always keep Facebook a free service for everyone.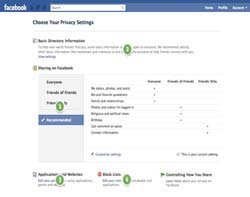 Zuckerberg said yesterday in a blog posting that it would create a single privacy home page. Members presently need several web pages to set their privacy levels for profile information, contact information, search, applications and websites, as well as set up block lists. There are four or five standard levels of privacy, plus the ability to customise the privacy setting for data items.
Analysts, bloggers and Twitterati agree this is a step in the right direction. Many want Zuckerberg to go further. "Until all of the settings are set to 'opt out' by default, this is meaningless. You should choose to share, not choose to have privacy," wrote bceugene on the Cnet website.
Ben Kunz, director of strategic planning at Mediassociates, a media planning and internet strategy firm, argued the opposite. He wrote in BusinessWeek that Facebook should sell its members' data to marketers.
He pointed to a 2004 study in which US phone company AT&T studied telephone "network neighbours", or people who call each other frequently. It found that if your friend buys something, you are three to five times more likely than average to want the same product.
"If marketers could find your friends, they would be able to pinpoint your desires more accurately. Who has the best data on networks of friends? Hmm," he said.
Kunz argued that Facebook would be doing what stores and auto dealers have always done, which is to sell personal information to the highest bidder. This could also shield Facebook from some criticism, since it puts distance between the place users input data and the offers that result from it, Kunz said.
Email Alerts
Register now to receive ComputerWeekly.com IT-related news, guides and more, delivered to your inbox.
By submitting your personal information, you agree to receive emails regarding relevant products and special offers from TechTarget and its partners. You also agree that your personal information may be transferred and processed in the United States, and that you have read and agree to the
Terms of Use
and the
Privacy Policy
.