SAP's planned $5.8bn acquisition of Sybase and controversially slow roll-out of its on-demand Business By Design product suite have dominated the opening news conference at SAP's Sapphire Now conference.
The annual SAP customer event is taking place from 17-19 May simultaneously in Frankfurt, Germany, and Orlando, Florida in the US.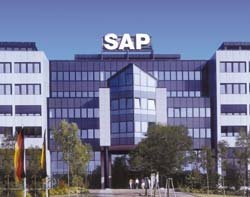 SAP co-chief operating officers Bill McDermott and Jim Hagemann Snabe reiterated that the acquisition of Sybase is focused on moving the business forward.
The acquisition of Business Objects moved SAP forward in terms of business analytics, and similarly the acquisition of Sybase will help it move strongly into the mobility market, said Snabe.
Just as the acquisition of Business Objects has enabled SAP to grow dramatically in analytics, the acquisition of Sybase will enable SAP to become a leader in mobility, said McDermott.
Both co-CEOs said they expect the acquisition to deliver benefits to customers fairly quickly because of the existing partnership between the two companies.
"We are already partners. We have shown we can bring our technologies together. When you see SAP CRM on the iPad, you will see the power of this [combination] immediately," said Snabe.
McDermott said the partnership is aimed at growth, customer satisfaction and expansion of the ecosystem. "Sybase will continue as a separate business. There will be no change in the way we go to market so customers will continue to have a choice," he said.
McDermott and Snabe mentioned key partnerships with HP, IBM, RIM and T-Systems, and said these will all continue.
"There will be thousands of requests for mobility experiences and the only way to achieve this is through the ecosystem approach," said Snabe.
On-demand developments
On SAP's fledgling on-demand business, Snabe said Business By Design (BBD) is on track for a full market launch in July 2010.
"We are confident that BBD has been perfected and is now ready to compete and change the rules of the on-demand market," he said.
McDermott described BBD as a truly "killer application" and confirmed that it will be rolled out in July in several key markets, including the UK.
Snabe said BBD has been proven as a real product with 100 customers. "We have waited to get the infrastructure perfect before rolling it out in volume," he said.
"BBD is the only on-demand application that has in-memory capability and mobility built in that will enable it to run on any mobile device with the lowest possible total cost of ownership," said Snabe.
SAP believes that it now has the robust infrastructure needed to support the acceleration of its on-demand business, he said.
Email Alerts
Register now to receive ComputerWeekly.com IT-related news, guides and more, delivered to your inbox.
By submitting your personal information, you agree to receive emails regarding relevant products and special offers from TechTarget and its partners. You also agree that your personal information may be transferred and processed in the United States, and that you have read and agree to the
Terms of Use
and the
Privacy Policy
.