Case study: London United Busways cuts server contract costs
London United Busways has reduced its server contract costs by £800 a year by moving from a "four-hour replacement"...
This Article Covers
RELATED TOPICS
London United Busways has reduced its server contract costs by £800 a year by moving from a "four-hour replacement" service to a "next business day" service.

Download this free guide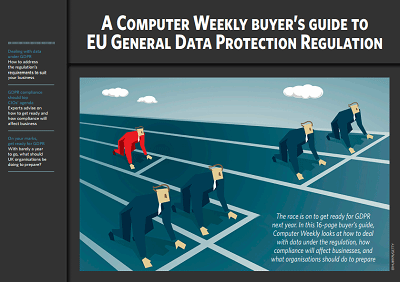 Computer Weekly's Buyer's Guide to GDPR
The race is on to get ready for GDPR next year. Computer Weekly looks at how to deal with data under the regulation, how compliance will affect businesses, and what organisations should do to prepare.
By submitting your personal information, you agree that TechTarget and its partners may contact you regarding relevant content, products and special offers.
You also agree that your personal information may be transferred and processed in the United States, and that you have read and agree to the Terms of Use and the Privacy Policy.
The firm was able to reduce the level of service required because it is able to switch all business-critical communications to an off-site back-up server.
Robin Newby, head of IT at London United Busways, which is responsible for 10% of bus services across London, saw the opportunity when switching to off-site when the firm's on-site BlackBerry server needed to be replaced.
In the four years since implementing a continuous availability service from business continuity firm Neverfail to protect business-critical e-mail for 500 members of staff, including 50 mobile workers using Blackberry devices, the company has looked for extra ways of getting business value out of the service, he said.
The IT department now regularly switches over to the off-site e-mail servers in Chiswick to enable maintenance, patching and testing of the systems in central London without disruption.
"This means that if we ever have to use the system in an emergency, staff will be well-practised," said Newby.
There are measuring business benefits beyond the assurance that communications will be maintained in the event of a power failure or other emergency, he said.
"But having that assurance is essential for a business that is highly dependent on e-mail services," said Newby.
In addition to internal and external communications, the system for managing all police requests for CCTV images from 650 buses is dependent on e-mail, he said.
The decision to implement the e-mail continuity service was taken after a series of power outages hit London in 2005, including one that downed the Blackberry service for almost a day, said Newby.
United Busways chose the Neverfail system because it was one of the few suppliers that could cover the company's Microsoft Exchange and Blackberry systems.
"Neverfail was able to offer the service we needed within our budgetary, time, infrastructure and bandwidth constraints," said Newby.
Read more on Server hardware