Small firms and consumers left naked by Digital Economy Bill
Small businesses and consumers are likely to be left largely unprotected if the controversial Digital Economy Bill becomes law as it stands, it was claimed...
Small businesses and consumers are likely to be left largely unprotected if the controversial Digital Economy Bill becomes law as it stands, it was claimed last night.

Download this free guide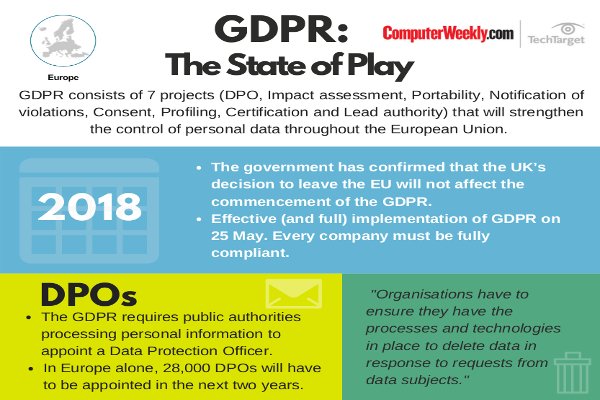 Infographic: GDPR - The State of Play
Get the latest information on how GDPR is going to affect your business and how to avoid any unwanted fines with this simple infographic.
By submitting your personal information, you agree that TechTarget and its partners may contact you regarding relevant content, products and special offers.
You also agree that your personal information may be transferred and processed in the United States, and that you have read and agree to the Terms of Use and the Privacy Policy.
Cross-bench peer Lord Erroll said the fight over how to protect online copyright and what some regard as free speech was being driven by big businesses. "Small business is not getting a look-in in this bill at all. That is the problem which I, Lord Whitty, and some others have with it," he said.
Consumer groups are now lobbying behind the scenes to ensure that the law affects only persistent illegal file-sharers.
A spokesman for Ofcom's Communications Consumer Panel said the panel was watching the bill's passage through parliament closely. It was particularly concerned to improve consumers' rights to appeal and redress following alleged copying.
In its response to the Digital Britain consultation, the panel called for consumer bodies to help develop the proposed code of conduct, and said technical measures, such as throttling and cut-offs, should not be imposed without a court decision.
Consumer rights group Which? said it did not condone unlawful file sharing. "However, we are concerned that under the government's proposals consumers will have to pay for a new system that may be neither fair nor effective," it said.
It called for communications regulator Ofcom to consult consumer bodies when it drew up codes of practice on ISPs' initial obligations and obligations to limit internet access when illegal file-sharing was discovered.
Malcolm Hutty a spokesman for EuroISPA, which represents ISPs across Europe, said details such as thresholds for alleged file-sharing transgressions still had to be defined and set by Ofcom, preferably in consultation with the internet industry. Without such consultation, the act would remain controversial and even unworkable, he said.
A spokesman for ISPA UK, which represents around 70 ISPs that carry about 90% of UK internet traffic, said its priority remained the removal of Clause 18, which deals with preventing access to specified online locations for the prevention of online copyright infringement. "There is also a number of outstanding issues that will be addressed in the codes of practice," he said.
During the third reading of the bill in the Lords, Lord Young, for the government, said that, as it stood, Clause 18 was legally unenforceable. It also had the unintended consequence of making search engines infringe the act if a search returned copyright material.
The government plans to introduce provisions to create a legally acceptable way to achieve what the clause intended, he said.
"The usual channels will be dealing with that in the wash-up (before parliament rises for the election), when it has to be done by agreement," he said.
A spokesman for the Department for Business, Innovation & Skills, which is sponsoring the Digital Economy Bill, said details of the new provisions were not yet available.
It is not clear whether MPs will be able to make changes to the bill before it becomes law, although the Department for Business, Innovation & Skills said they would debate it. Erroll said, "We have no idea what [the new provisions] look like, and it seems to be an abuse of parliamentary process."
A date for the second reading of the bill in the House of Commons has still to be set.
Read more on IT legislation and regulation