Are IT bosses doing enough to understand and use social technology? Some still brush it off as irrelevant, but others are embracing it - here is our list of UK CIOs who tweet.
Paul Coby, CIO at British Airways. Coby uses his stream to talk about his fear of snow, airport IT and his role on the board of the IT sector skills council e-skills UK. @PaulCoby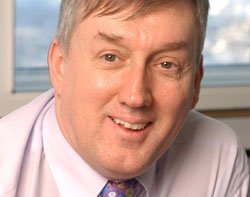 John Suffolk, CIO at the Cabinet Office, has protected his tweets so we can't tell you what he talks about. But it's probably worth hearing. @GovCIO.
Paul Cheesbrough, CIO at the Telegraph Media Group, talks about general IT industry news, and is obviously aware of how new technology might impact on his company's product. @paulcheesbrough
Bill Thomson is CIO at chemical company Infineum. Tweets very irregularly, with his last update being on 9 January. @thomson
Katherine Coombs is CIO at Morrison Facilities Services. She uses Twitter to give her own unique take on the IT industry. @kat_woman
Andrew Abboud is CIO at City University in London. He describes himself as a "lifelong learner and curious CIO" and shares lots of links while talking about the technology industry. @aabboud
Padmasree Warrior is CTO at Cisco. Her infectious enthusiasm for technology has made her one of Twitter's big hitters with nearly 1.5 million followers. She tweets about new technology, jobs at Cisco and trends in the sector. @padmasree
Heledd Straker is CIO at Naked Generations, a company that helps businesses understand the expectations and behaviour of their Generation Y workers. She tweets along these lines, with advice on how to manage social networks and retain employees. @nakedgen_heledd
Christian McMahon is a former CIO at GoIndustry and analyst firm Ovum, McMahon is now principal consultant at developer firm Jamaza bvba. He posts lots of links to technology-related news and interacts with people a lot. @ChristianMcM
Gregory Dumont is IT director at telecoms company SBE. He says he is passionate about SEO and usability, a fan of Linux, and a Blackberry addict. He is also not afraid to flag up the sinister side of social networking. @FrenchInUK
Casey Coleman is CIO at General Services Administration. She mixes updates on her travelling - which she does a lot of - with discussions on IT modernisation and Google. @caseycoleman
Ian Cohen is CIO at insurance specialist Jardine Lloyd Thompson. He started his career in financial services, but also spent time at the Financial Times and Associated Newspapers, so he has an interesting viewpoint on technology trends and issues. @ceo62
Steve Berg's biography says he is a senior IT executive who also has a blog and tweets his take on consumer technology. @CIOSteve
Chuck Musciano is CIO at US construction company Martin Marietta Materials. He also has a blog where he talks about "being a CIO, solving problems and helping people". @EffectiveCIO
Scott Booher is a consultant who was formerly CIO at US healthcare companies. He shares a lot of links on his stream. @ScottBooher
Andrew Hoppin is CIO at the New York State Senate. His links are all about his work, touching on IT in politics and on social entrepreneurialism. @ahoppin
James Gardner is CIO at the Department for Work and Pensions (DWP). He also runs a blog called Bankervision. The DWP has one of the biggest IT estates in Europe, so his tweets are worth following. @bankervision
Ajay Burlingham-Böhr is director of information systems and media services at Anglia Ruskin University. @ajaybb
Nick Lansley played a key role in setting up Tesco.com, and continues to be central in shaping the company's digital offering. Both his Tech For Tesco blog and his Twitter feed are interesting. @techfortesco
Peter Birley is CIO at law firm Browne Jacobson, and he has a blog where he discusses everything from leadership to social networking. @birlep
Email Alerts
Register now to receive ComputerWeekly.com IT-related news, guides and more, delivered to your inbox.
By submitting your personal information, you agree to receive emails regarding relevant products and special offers from TechTarget and its partners. You also agree that your personal information may be transferred and processed in the United States, and that you have read and agree to the
Terms of Use
and the
Privacy Policy
.