Moneysupermarket.com has appointed Annie O'Grady, who has been interim CIO at McDonald's UK since June 2008, as its CTO.
The price comparison website has 180 IT staff and is heavily reliant on IT to cope with rapid growth.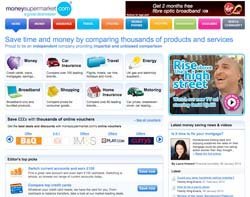 In 2007, the company began reviewing the capacity of its hardware, bandwidth and IT staffing levels every week to help it manage the rapid expansion of its business.
O'Grady has previously held senior IT roles at Punch Taverns, BBC Technology and IBM.
Peter Plumb, chief executive of Moneysupermarket.com said she brings business and IT experience.
Annie O'Grady said, "Moneysupermarket.com is an entrepreneurial business that owes much of its success to technological innovation and its creative and dynamic culture."