Green datacentre consortium, the Green Grid has introduced a free online tool and maps to help datacentre and facilities managers calculate if they can use outside air to cool datacentre server rooms.
The software determines how much outside air - known as free cooling - is available for individual datacentres. The updates extend coverage of the tool and maps to 33 European countries. The Green Grid said the tool can help datacentre managers in Europe lower energy consumption and related costs. This could extend the life and improve the energy efficiency of datacentre facilities.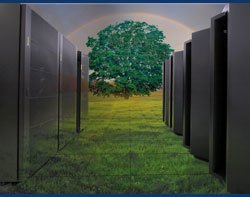 "Finding cooling options that use less power is critical not only for organisations that don't have resources to build new facilities but also for those that want to save money," said Vic Smith, Dell representative and EMEA technical work group chair of The Green Grid.
Datacentre managers can enter data about their facilities - including local energy costs, IT load, and facility load - to determine energy savings for individual facilities. The software also provides information about savings that could be obtained using water-side economisers.
According to the Green Grid, a one megawatt (1000kW) datacentre in Luton, with power at a cost of 8.6p per kW hour, could save £312,000 per year using free cooling, or £192,000 per year using a water-side economiser.
Members of The Green Grid have access to a high-resolution graphical map of the estimated hours of air-side and water-side economisation possible for Europe. Lower-resolution maps of European free cooling estimates are available to the public at The Green Grid Web site.
Google invests to reduce carbon footprint >>
Green Grid library and tools >>
Email Alerts
Register now to receive ComputerWeekly.com IT-related news, guides and more, delivered to your inbox.
By submitting your personal information, you agree to receive emails regarding relevant products and special offers from TechTarget and its partners. You also agree that your personal information may be transferred and processed in the United States, and that you have read and agree to the
Terms of Use
and the
Privacy Policy
.