Logistics firms seek IT contacts
Nine out of 10 shipping companies believe that IT-based logistics management is vital to controlling costs and improving efficiency, but less than half...
Nine out of 10 shipping companies believe that IT-based logistics management is vital to controlling costs and improving efficiency, but less than half believe that third party logisitics (3PL) firms are up to speed.

Download this free guide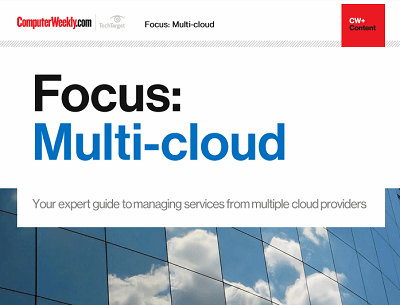 Mixing and matching your cloud options
Many IT leaders are increasingly coming round to the idea that sourcing services from one or more providers might be the best way to go. From a cost and resiliency perspective, some workloads might work better in one cloud over another. Or a certain provider might boast some functionality that suits a particular process the enterprise is looking to implement, but falls short in other areas, prompting the company to adopt a mix-and-match procurement strategy. Join us as Computer Weekly takes a closer look at the multi-cloud approach and what providers are doing to capitalise on the trend.
By submitting your personal information, you agree that TechTarget and its partners may contact you regarding relevant content, products and special offers.
You also agree that your personal information may be transferred and processed in the United States, and that you have read and agree to the Terms of Use and the Privacy Policy.
This emerged from research released yesterday by IT consultancy Capgemini, Oracle, the Georgia Institute of Technology and logistics provider, Panalpina, into the global market for logistics outsourcing. Over 1,000 logistics executives from both 3PL users and providers in North America, Europe, Asia Pacific and Latin America took part in the web-based survey, which was followed up by in-depth interviews with a sample of respondents.
The recession has hit shippers and 3PL firms hard. More than eight out of 10 shippers are cutting costs, and 60% are rethinking their supply chains and relationships with 3PLs as a result.
The researchers found that 88% of shippers felt that IT-based logistics services were important, but only 42% believed in the IT capabilities of their provider. This came through from a lack of key performance indicators, alerts and visibility required for an adaptive supply chain. 3PLs reported similar difficulties in getting the data and commitment they need from shippers, the researchers said.
This gap was important because 47% of North American shippers and 66% of European shipppers use 3PLs, and these are expected to rise over the next five years.
Cost cutting and better reliability were the main factors likely to increase shipper respondents' use of 3PLs. This included converting fixed to variable costs (59%), expanding to new markets or offering new products (56%), and restructuring the supply chain network to improve financial performance (48%).
The study showed that while shippers continue to outsource logistics services that are more operational and repetitive, they outsourced less frequently those that were more strategic, customer facing and IT-intensive.
The lack of IT integration led the list of shipper respondent issues (55%) with 3PL IT capabilities. Widespread use of manual practices and variations in standards made it harder for shippers and 3PLs to exchange data reliably and to connect workflows.
Real-time interfaces to shipper order management systems (63%) and timely demand forecasts (54%) were the most desired IT capabilities 3PLs needed from shippers, researchers said.
Read more on IT outsourcing