UK online piracy proposals contrary to EU law
Government proposals to force internet service providers (ISPs) to block illegal peer-to-peer file-sharers are contrary to impending legislation in Europe designed to create a single market in telecommunications, says a telecoms law expert.

Download this free guide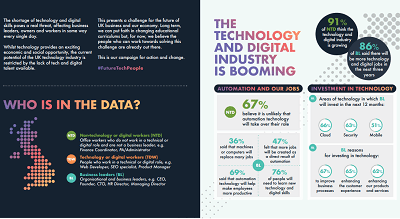 Infographic: Future-proofing UK technology
The shortage of technology and digital skills poses a real threat, affecting business leaders, owners and workers in some way every single day. Whilst technology provides an exciting economic and social opportunity, the current potential of the UK technology industry is restricted by the lack of tech and digital talent available. This presents a challenge for the future of UK business and our economy. Long term, we can put faith in changing educational curriculum but, for now, we believe the people who can work towards solving this challenge are already out there.
By submitting your personal information, you agree that TechTarget and its partners may contact you regarding relevant content, products and special offers.
You also agree that your personal information may be transferred and processed in the United States, and that you have read and agree to the Terms of Use and the Privacy Policy.
The government wants to force ISPs to block individual repeat infringers' access to download sites, restrict their broadband speeds, or suspend their internet accounts. The government calls these "technical measures".
Monica Horten, who is studying the development of the Telecoms Package for a PhD at Westminster, said the measures involve the application of network filtering and deep packet inspection technology.
"They clearly contravene the EU Telecoms Package Amendment 138, which states that users may not be sanctioned without a court judgement," she said.
"Specifically, Amendment 138 says that users rights to freedom of expression may not be restricted without a prior judicial ruling.
"In the internet context, the right to freedom of expression is interpreted as the right to use all applications and services, in addition to the right to have an internet connection," Horten said.
"The right to freedom of expression, without interference from the state, is guaranteed under EU and UK human rights laws law. The key words here are 'without interference'. Technical measures would constitute interference."
Horten said other amendments in the Telecoms Package that were now Articles (clauses in the law) provided the legal foundation for the proposed UK measures.
"That is why Amendment 138 is so important; it is currently the only thing stopping them," Horten said.