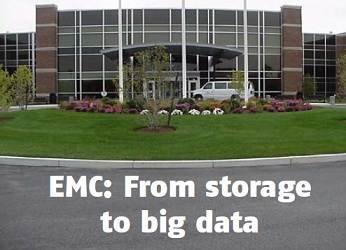 In this EMC supplier profile you will find a special nine page report from Computer Weekly analysing the challenges facing EMC, along with figures about its financial performance, the services it offers, its place in the market and what the future may hold for the supplier.
You will also find up to date news and tips on EMC in addition to further EMC resources and whitepapers from TechTarget's research library.
Overview of EMC
EMC was incorporated in Massachusetts in 1979, and is headquartered in Hopkinton, Massachusetts It operates in two broad categories: its information infrastructure business, and its VMware virtual infrastructure operation, represented by its majority stake in VMware.
The company is divided into several segments. Information Storage handles its core storage products, and EMC Global Services helps customer to design and deploy storage systems in their organisations. RSA Information Security handles its security presence, while the Information Intelligence Group helps customers to use their information more effectively in areas such as governance and records management. VMware focuses on virtual and cloud-based offerings.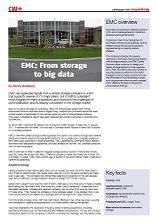 This special nine-page report from Computer Weekly analyses the challenges facing EMC, its financial performance, the services it offers, its place in the IT market and its future strategy. Packed with graphs and diagrams, the report is essential reading for any organisation already working with, or thinking of working with, EMC.
See all research from ComputerWeekly.com
Key Facts about EMC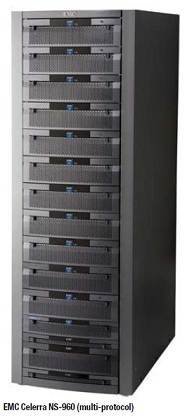 Formed: 1979
Headquartered: Hopkinton, Massachusetts, USA
Employees: 48,500 (9,000 of whom are employed by VMware).
President and CEO: Joseph Tucci
Main source of revenue: Information storage
UK offices:
Abingdon
Belfast
Birmingham
Bracknell
Brentford
Bristol
Hemel Hempstead
Leeds
Livingston
London
Manchester
Norwich
Surrey

More on EMC from the TechTarget network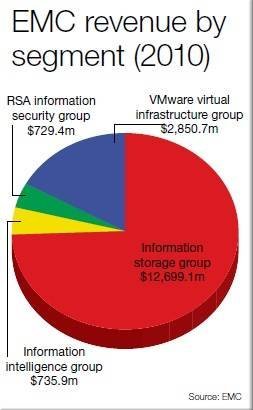 • Has EMC missed out on the hybrid flash array?
• Options in small-business storage for server virtualisation
• Backup solutions for small business boast enterprise features
• EMC World 2012 conference coverage

More on EMC from ComputerWeekly.com
EMC products and product families
Archiving
Centera Archiving Hardware
Data Domain back and recovery hardware
VNX unified storage
DiskXtender data migration software
EMC SourceOne Archiving
Backup & Recovery
Data Domain deduping hardware
Disk Library virtual tape
Avamar backup and recovery
NetWorker next generation data protection
Data Protection Advisor
HomeBase
MozyPro

Case management
Captiva Family capture and transform paper documents
Document Sciences Family intelligent customer communications
Documentum Content Security
Documentum Records Mangement Family
Documentum xCP Family intelligent case mamagement
Greenplum Data Computing Appliance
Greenplum Database
Greenplum Community Edition (tools for developers and data scientists)
Greenplum Chorus private cloud computing and social collaboration

Enterprise content management
Application Xtender Family captures and tranforms paper documents
Captiva Family capture and transform paper documents
Document Sciences Family intelligent customer communications
Documentum Content Security
Documentum Digital Asset Management Family
Documentum Standard Family
Documentum Records Management Family
Documentum WEM by Fatwire Family
My Documentum Family

Information governance
Documentum Records Management Family
EMC SourceOne Archiving Family
EMC SourceOne e-Discovery Family

File intelligence
EMC SourceOne File Intelligence

IT management
Infra software
IT Operations Intelligence software
Voyence software
Ionix Configuration Analytics Manager
Ionix Data Center Insight
Ionix IT Performance Reporter Network Edition
VMware Alive
VMware vCenter Application Discovery Manager
VMware vCenter Server Configuration Manager

Replication
RecoverPoint Software
Celerra Replicator Software
MirrorView
Replication Enabler for Exchange 2010
Replication Manager
SnapView
SRDF
TimeFinder

Security
Documentum Content Security
RSA, The Security Division of EMC

Software Development Kit and Driver
Captiva ISIS Drivers
Captive PixTools SDK

Storage
Celerra
CLARiion
Connectrix
EMC Centera
Iomega
Isilon
Symmetrix
VNX
VPLEX
Atmos Software
PowerPath Software
CLARiiON Virtual Provisioning
z/QS Storage Manager

Third-Party Products (EMC Select)
Business Continuity and Disaster Recovery
Backup, Recovery and Archiving
Content Management
Converged Storage Networking
Host Bus Adapters (HBAs), Converged Network Adapters (CNAs), and Switches
Mainframe
Peripherals
Security
Storage and Performance Management
Virtualisation
WAN Optimiszation and High Speed Data Transfer
MC Select Partner Technologies

Virtualisation
VMWare Hardware
VPLEX Hardware
Invista Software
Ionix Server Manager
VMWare vCenter Application Discovery Manager
More on EMC's product family
Key executives at EMC
EMC UK local executive team
• Adrian McDonald, president, EMEA-North
• Chris Roche, senior technical services director, UK & Ireland
• Phil Brennan, regional services director, UK & Ireland
• Steve O'Neill, finance & business operations director
Key executives

Joseph M. Tucci, chairman of the board of directors, president and chief executive officer of EMC Corporation:
Joe Tucci has been EMC's chairman since January 2006 and CEO since January 2001, one year after he joined the company as president and chief operating officer. He is also chairman of the board of directors of VMware Corporation.
William J. Teuber, vice-chairman, EMC:
William J. (Bill) Teuber has been vicechairman at EMC Corporation since May 2006. In this role he leads EMC Customer Operations, the company's worldwide sales and distribution organisation.
Pat Gelsinger, president and chief operating officer, EMC Information Infrastructure Products:
Gelsinger, formerly of Intel, is responsible for EMC's Information Infrastructure product portfolio, including its Information Storage, RSA Information Security, Content Management, Ionix IT management and Data Computing divisions. He reports to Joe Tucci, EMC's chairman, president and CEO.
Howard D. Elias, president and chief operating officer, EMC Information Infrastructure and Cloud Services:
Elias governs the strategy for EMC services in the area of cloud computing.
David Goulden, executive vicepresident and chief financial officer:
In addition to his financial role, Goulden also heads up the firm's information technology and investor relations functions.
Key UK customers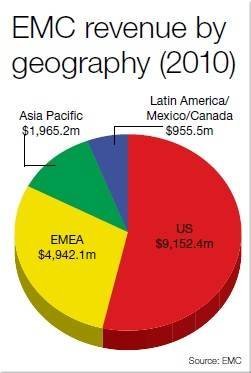 East Carolina University
Maine Medical Center
Muzak Holdings
South Carolina Department of Corrections
Republic Bank
Mary Greeley Medical Center
California Department of Justice
Manila Electric Company
EMC videos from the TechTarget video library
Latest announcements from EMC