The mainframe killer carves itself a niche
Despite the hype when it was launched, Windows 2000 Datacenter has not taken the mainframe market by storm. However, it has found...

Download this free guide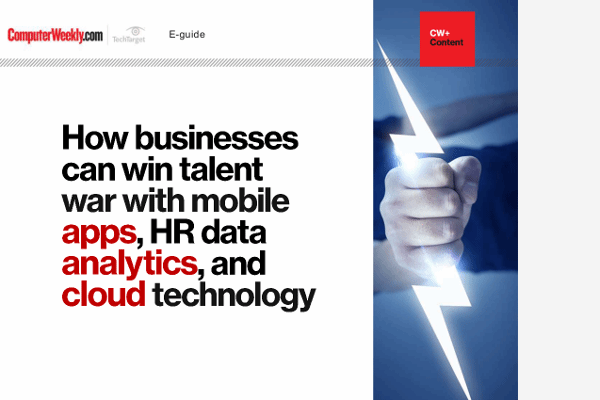 How businesses can win talent war with mobile apps, HR data analytics and cloud technology
Latest articles on HR best practices: mobile apps disrupting the annual staff appraisals; reasons for and against open-source software; and Rolls-Royce case study.
By submitting your personal information, you agree that TechTarget and its partners may contact you regarding relevant content, products and special offers.
You also agree that your personal information may be transferred and processed in the United States, and that you have read and agree to the Terms of Use and the Privacy Policy.

Despite the hype when it was launched, Windows 2000 Datacenter has not taken the mainframe market by storm. However, it has found favour as a way of consolidating Microsoft applications on the server. Ben Tudor reports.



Remember Windows 2000 Datacenter? The Microsoft operating system Unisys helped write as Bill Gates' way in to the wallets of the big-box users? We haven't heard a lot about it lately. Is it dead? No - but the spin that Windows 2000 Datacenter Server is a mainframe killer certainly is. Instead, Datacenter is finding its own niche.

Microsoft's datacentre product has sold well in the year since its launch.

According to figures from analyst firm IDC, Microsoft has now shipped between 220,000 and 250,000 copies - roughly the same as Sun's Solaris managed during the same period. As a system that is pre-installed on hardware and is not available as a shrink-wrapped product, that's not bad going.

It is true that most of these systems are currently below the eight-processor threshold that Microsoft defines as being the true failover threshold, but this may change in July with the introduction of an eight to 16-way server from IBM alongside Unisys' ES7000, both of which run Datacenter.

Add in the fact that Microsoft's Datacenter resellers - Compaq, HP and IBM among them - are required to sell Datacenter as a serviced solution rather than a standalone operating system, and things look even rosier.

In the UK, Datacenter users include Abbey National, Freemarkets.com, Credit Suisse First Boston and Ragnarok Systems.

Microsoft took great pains to make the launch of Datacenter go as well as possible. "Microsoft wanted the product in the marketplace, and it wanted successful installs," says Dan Kusnetzky, vice-president of systems software at IDC. Kusnetsky explains that the software giant priced potentially failure-prone customers out of the running. "Microsoft could not afford a failure of any kind," he says.

True, the original aim of availability on a wide range of hardware hasn't really worked. At its inception, Windows 2000 Datacenter Edition was available for just one platform: Unisys' ES7000 Intel mainframe, featuring cellular multiprocessing (CMP) on Intel processors - something of a rarity in high-end datacentre machines.

The ES7000 was also relatively cheap compared to other 32-processor systems such as Sun's much vaunted E10000, which costs from £1m upwards, while ES7000 prices start at about £250,000.

Unfortunately, despite having a very impressive piece of hardware that has sold well, Unisys, in many ways the main proponent of Datacenter Server behind Microsoft, has seen its operating system strategy become somewhat tangled.
Unisys has tried desperately to escape from its Unix involvement, despite being one of SCO's biggest Unixware resellers, so that it can tie itself to Microsoft operating systems.

The reason for the move is that Unixware has one hell of a competitor in the far cheaper Linux operating system. As Unisys chief executive Larry Weinbach said shortly after the launch of the ES7000 as a Datacenter platform, "We moved to NT because it was cheap, and we could sell a lot of it. Unix is expensive, and sells in smaller numbers."

The result was that while many Unisys customers happily plumped for the Microsoft solution, a fair number stuck with Unixware, particularly those that had mission-critical applications running on the venerable operating system.

The first UK customer for the ES7000 was the Isle of Man government, which bought the machine to do what Unisys was keen to play down: the box ran Unixware as well as Windows 2000 Datacenter Edition.

While Datacenter came pre-loaded on the Unisys box, the customer had actually bought it for the Unixware option to consolidate existing Unixware servers.

The ES7000 story has been further complicated by an unsuccessful OEM (original equipment manufacturer) strategy and divisions in the market on the question of hardware firepower.

Datacenter is also still not scaling to 32 processors in real-world implementations, while Solaris is now up to 52 processors.

Microsoft's competitors are happy to point out the question this raises. "While the Windows 2000 Datacenter architecture will reach into the 32-processor range, we believe the sweet spot is at 16 processors," says Tikiri Wanduragala, senior consultant for IBM's eServer xSeries range in Europe.

"Mainframe technology for the Intel architecture is an outdated model. The market wants spanning, clustering and symmetrical multiprocessing."

Wanduragala may have a point. What is certain is that while Datacenter was pitched as a mainframe killer by Microsoft and Unisys, it has become something else entirely.

"New technology does not necessarily replace old, it simply sits alongside it and does other jobs," explains Kusnetsky.

"For example, just because someone throws a new bridge over the Thames, it does not mean that all road traffic will only go over that bridge - it simply swallows a share of the traffic."

Microsoft sees things slightly differently. "One of the biggest things we have seen over the past year has been server consolidation," says Mark Tennant, Microsoft's Windows Servers product manager in the UK.

"One bank in London was at the point of buying a building to house its servers before it took the consolidation route. However, customers are now citing other reasons: high availability and low cost in their Windows servers, which leads into consolidation quite happily."

Tennant is quite satisfied with the development of Datacenter, and cites examples of datacentre managers who would never normally give Windows a second glance now considering the product.

But it is still a niche product. Kusnetsky says, "Datacenter is still establishing a track record. According to Microsoft, it is 'doing' enterprise computing, but what is often being done is e-mail in the form of Exchange. Personally, I cannot view that in the same category as accounting solutions."

This sums up the current situation for those looking to adopt Datacenter pretty well: if you need server consolidation for your Microsoft applications, then it is an interesting option. But don't expect Microsoft to boot the mainframe old boys out of their private club just yet.

What do you get with windows 2000 datacenter?
Microsoft Windows 2000 Datacenter Edition is a bulked up version of the company's 32-bit operating system designed for systems of up to 16 processors and symmetrical multiprocessing (SMP).

Despite claims on Microsoft's Web site, the company has only demonstrated 32-way capability. The system also supports up to 64Gbytes of memory.

Microsoft has tied Datacenter installs to heavy services and support contracts. It will provide system testing, and the hardware supplier will be obliged to provide support and be qualified to provide at least part of the support and certification itself.

www.microsoft.com/windows2000/datacenter
Read more on Operating systems software