How to survive IR35
After losing the judicial review of the controversial IR35 tax last December, lawyers and IT contractors are looking at new ways...

Download this free guide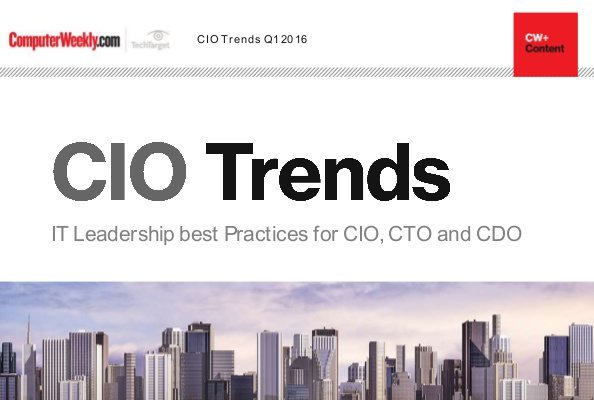 Your exclusive guide to CIO trends
A collection of our most popular articles for IT leaders from the first few months of 2016, including: - Corporate giants recruit digitally-minded outsiders to drive transformation - Analytics platforms to drive strategy in 2016 - Next generation: The changing role of IT leaders.
By submitting your email address, you agree to receive emails regarding relevant topic offers from TechTarget and its partners. You can withdraw your consent at any time. Contact TechTarget at 275 Grove Street, Newton, MA.
You also agree that your personal information may be transferred and processed in the United States, and that you have read and agree to the Terms of Use and the Privacy Policy.

After losing the judicial review of the controversial IR35 tax last December, lawyers and IT contractors are looking at new ways to tackle the issue. Bill Goodwin reports



Self-employed IT contractors will bitterly remember 21 December 2001 for generations. That was the day the Court of Appeal decided that, whatever the moral rights or wrongs, the IR35 "contractors' tax" is lawful and here to stay.

The news came as a bitter blow to thousands of IT contractors who had banded together as the Professional Contractors Group to fund a judicial review.

Unless IT freelancers can prove that they are exempt under the Inland Revenue's strict rules, IR35 will mean they have to make higher national insurance payments and have no right to claim tax relief for training or other business expenses. In effect, contractors will have to pay the same taxes as employees, but qualify for none of the benefits, such as company pension schemes, training or sick-pay.

The ruling has left those contractors who want to avoid IR35 with a string of unanswered questions. Existing employment case law, which defines when a worker is an employee and when they are classed as self-employed, dates back more than a century and offers little practical guidance to a profession that operates in very different ways from those prevailing in the 1800s.

"There are not many cases from the 1860s relating to computer programmers and the way they work," says employment lawyer Kevin Barrow of London law firm Tarlo Lyons. "There are cases relating to plumbers, actors and television technicians. But it is not clear either to the Inland Revenue, to the contractors, employment agencies or end-users exactly who will qualify for IR35."

This uncertainty has created an opening in the market for professional advisers to offer a range of IR35 avoidance schemes, ranging from umbrella companies employing groups of contractors to offshore companies designed to avoid UK taxes. These schemes are proving popular, but should be treated with extreme caution, says Barrow.

Management companies such as Brookson, which has about 5,000 IT contractors on its books, employs a team of solicitors to advise its contractors on how to minimise their chances of having to pay IR35 taxes. One method is for contractors to join composite companies as both employees and shareholders. They are paid either in dividends, if their contract is IR35-exempt, or with tax deducted under the PAYE scheme, if it is not.

Rick Nevinson, Brookson's managing director, says the company tries to persuade employers to accept contracts that treat the contractor as a service provider rather than an employee. It is important, he says, that the contract reflects the way contractors actually work. In practice, about 90% of its contractors can escape IR35 in this way.

The company keeps detailed documentation for each contract and has promised to fight any challenges from the Inland Revenue through the courts if necessary. "We have been putting together a fighting fund for the past 18 months. It is over £300,000 and it will be £500,000 by the end of March," says Nevinson.

But with the case law yet to be decided the only safe tactic for contractors, lawyers argue, is to assume that IR35 does apply, and to pay up. "You can just assume that you are caught by IR35 and make appropriate provision. That has to be the best case for many people," says Barlow.

Despite its defeat in the Court of Appeal, the Professional Contractors Group has vowed to continue its legal battle by bringing test cases that will clarify the law.

"We will drive test cases through the courts which demonstrate beyond a shadow of doubt that our working practices are those of genuine businesses," says the group's chairman Jane Akshar. "I predict that within the next two years IR35 will be a voluntary tax."

Test cases will clarify many of the grey areas in IR35 for contractors, employers and the Inland Revenue. But Barrow warns that they may not be the panacea that contractors are looking for.

"The judgement in each case will be binding on that contractor in that particular contract. If he mimics as much as possible the way he worked then on the next contract he can be pretty sure that he will be outside IR35, but to be really sure he would have to get a new judgement," says Barrow.

The real hurdle, once test cases are established, will be to persuade employers to change their contracts and their way of working with IT freelancers to help them avoid IR35 taxes. This could be an uphill struggle - it will cost employers time and money and they will have little to gain by doing it.

The real solution could be to create a new class of worker who falls somewhere between an employee and a self-employed contractor. Those qualifying in this category could enjoy tax breaks to cover training and other expenses.

The idea is already being considered seriously by the legal profession, and has support from eminent lawyers including Cherie Booth, who presented a paper on the subject to the Employment Lawyers Association. But, whatever happens, it is clear that the IR35 story will not be over for some time to come.

The current state of play with IR35


The courts have ruled that the Inland Revenue's IR35 tax on contractors is legal but there are still many uncertainties over how it will operate in practice
Existing employment case law will not help contractors to decide whether they are covered by IR35. Cases will have to be decided by the courts
Consultants are advising contractors how to avoid IR35 taxes but lawyers advise contractors it is safer to pay-up
Pressure is growing to create a new category of employee for IT consultants that would allow them to benefit from limited tax breaks
E-Zine

E-Handbook

E-Handbook
Read more on IT for small and medium-sized enterprises (SME)