Data backup and recovery best practices with W. Curtis Preston
W. Curtis Preston discusses bare-metal restores, data compression techniques, data replication best practices, data deduplication, data backup options for SMBs and more.
If you're looking for information on data backup, W. Curtis Preston, independent backup expert and executive editor of the Storage Media Group, is one of the most sought-after consultants, writers and speakers in the data backup and recovery world. We've compiled a listing of some of Curtis' recent contributions to SearchStorage.co.UK so readers can quickly reference his advice regarding bare-metal restores, data compression techniques, data replication best practices, data backup options for small- and medium-sized businesses (SMBs) and more.
SearchStorage.co.UK



Plan ahead to avoid bare-metal restore frustration
Bare-metal restores can be challenging, so a little planning can save you a lot of headaches before performing one. Curtis answers common questions about bare-metal restores in this Q&A. You can read the transcript of his answers or listen to them as an MP3.

Data backup and recovery choices for SMBs
Small- and medium-sized businesses (SMBs) need and deserve the same level of quality found in the data backup and recovery systems of their larger "enterprise" counterparts. The good news is that there are a lot of choices available to these firms. In this column, Curtis examines the data backup options available for SMBs, including backup hardware, backup software, cloud backup services and more.

An introduction to data compression
It's no secret to enterprise data storage managers that data compression technologies can help reduce their data footprint. But how much do you know about actually achieving the types of compression ratios that will provide significant data-reduction benefits to your environment? In this interview, Curtis discusses the basics of data compression, the data compression technology market, how compression differs from data deduplication and more.

Tape backup and recovery technology tutorial
Despite all of the hype around disk-based backup and data deduplication, tape remains the predominant way that users ultimately store their backups. Even if they first back up to disk, most users eventually store their backups on tape. Check out this tutorial to learn about recent changes in tape technology and how to best use tape in a modern backup environment.

Data replication for backup best practices
Replication is increasingly becoming a critical business need for many organisations. In this interview, Curtis discusses synchronous and asynchronous replication, data deduplication and backup management best practices.

Data destruction options for your backup data
Uncontrolled data growth has resulted in policies regarding data storage and retention. But when data backups are deleted in your business, are they truly gone? In this interview, Curtis discusses data destruction in backup environments and takes a closer look at the approaches to destruction, the regulations and policies regarding destruction, as well as options for outsourcing this policy.
Content Continues Below

Download this free guide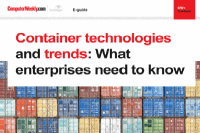 Container technologies and trends: What enterprises need to know
In this e-guide, we take a look at how and why enterprises are tapping into containers to bolster the business agility of their IT infrastructure and application estates, and some of the latest thinking about how best to utilise container technologies.
Read more on Data protection, backup and archiving