Rawpixel.com - Fotolia
CIO interview: Adrenaline junkie leaps from big pharma to cloud services
Diana McKenzie, CIO of Workday and triathlon competitor, on analytics, data lakes and the relationship between IT and business
Diana McKenzie caught the IT bug from her school counsellor. As the young student sat down to discuss what academic programmes to take, the counsellor told her a story.
Whenever a customer left a car parts store in Texas, the parts supplier in Indiana knew exactly which part the customer had bought and when to ship out replacement supplies to the store.
"Now, this is before POS [point of sale] systems and automated inventory controls – they didn't even exist. I thought that was just magic. And she sold me, then and there," says McKenzie.
That remark propelled McKenzie into a career in information technology. Her first job was with pharmaceuticals manufacturer Eli Lilly, where she developed software to track and report adverse reactions to medicines.
"This is before anybody made software for the pharmaceutical industry. So we were still writing it [ourselves] in those days," she says.
After 30 years in pharmaceuticals, both at Eli Lilly, and later, as CIO of bio-technology company Amgen, McKenzie decided it was time to make a switch. She crossed the divide from working for a user of IT services to working for a supplier.
When the phone call from Workday came, it was hard to say no, she says. At Amgen, McKenzie came to realise that the most exciting part of her job was using digital technology to improve the care of patients, rather than the more traditional tasks of a CIO.
"The more exposure I got to the digital," she says, "the more I found I woke up every morning looking forward that to that aspect of my role."
Today, McKenzie is the first CIO of the human resources and finance cloud services company, with its headquarters in the Bay Area of San Francisco. She is responsible for a team of up to 300 IT professionals – most based at the Workday complex in Pleasanton, California, with others in Dublin, Ireland and Aukland, New Zealand. Digital technology is at the top of her agenda.
Diving into data
McKenzie is leading a major programme to expand the data analytics capabilities of Workday. The company has created a data lake, which is hosted on Amazon Web Services (AWS), to hold historic financial and sales information.
There was no existing team in Workday's newly formed CIO department with the skills to work on the project. McKenzie assembled a team from across the company, and brought in consultants to get the project up and running in record time.
Within six weeks, the first proof of concept dashboards were up and running, providing managers at Workday with insights about the company's customers.
"It's going to make huge difference for us. It's going to give our sales leaders insights into the data that previously existed in silos in a much more integrated fashion," says McKenzie.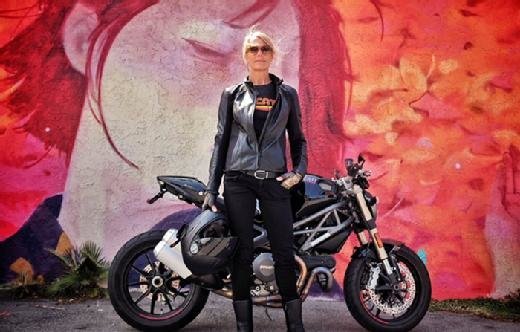 Workday has plans to make its own services available to its customers on AWS, as an alternative to its own datacentres. Customers will be under no obligation to move to Amazon, but in the longer term Workday expects to be able to reap the benefits of Amazon's investments in digital technology, says McKenzie.
"We'll be in that position in the future to take full advantage of its continued pace of innovation, which will allow us to continue to make our platform even more competitive."
The analytic techniques Workday has developed on Amazon will make their way in to Workday's cloud services, through a product called Prism Analytics, scheduled to be released in autumn 2017.
The technology, which was made possible through Workday's 2016 acquisition of Platfora, a specialist in data analytics and discovery tools, will allow organisations to pull data from a wide variety of sources into Workday for analysis. Internally, Workday plans to use the tool to pull in data from ServiceNow, a service management platform, and Salesforce, which is widely used by sales teams, for analysis.
Linking technology and business
One of McKenzie's aims is to encourage the IT team and the product development team to work more closely together. Her goal is to rotate members of the IT team in and out of the product development group, so that every business leader will have a partner in the IT department.
It is a big cultural change, and McKenzie plans to start by raising the profile of the services the IT department delivers to the rest of the company. She has a programme underway that aims to define the services offered by IT, measure their quality, and to make sure that partners in product development are aware of them. "It's about building credibility," she says.
McKenzie draws the line at creating an internal market for IT services – as some companies have done – but being in a position to prioritise work that will have the biggest impact on the company is important. "Historically, there wasn't a mechanism for that conversation to happen."
Part of that, she says, is allowing the IT department to be an incubator for new ideas and technologies that may be too risky to build directly into a product. "And then, when we find something that we think works, we can collectively agree that it makes sense to pull it over [from IT to product development]," she says.
McKenzie manages a team, known Workday on Workday (WOW). Its role is to test future iterations of Workday's cloud services, by running them first within the San Francisco Bay-based company. By testing the products internally, and gathering feedback from the rest of the business, the team's goal is to make sure that Workday works for its customers, by making sure it works for Workday first.
"We need to give the Workday product management team the opportunity to use us as an analogue for our customers' IT organisations," says Mckenzie.
Keeping out the bad guys
Security is another priority. McKenzie spends about a quarter of her time managing the security team. The task is a vital one for a company like Workday, which holds sensitive financial and HR data from some of the world's best known companies – from Netflix to Rolls-Royce – in its datacentres. The company is pursuing a "security maturity" programme that aims to ensure that its customer data is protected, despite rising threat levels.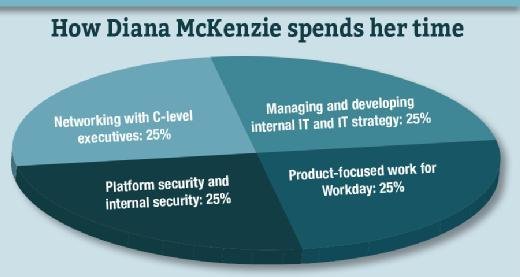 "We have to be very thoughtful about moving to bleeding edge and any technology until we're absolutely sure it can scale and we can continue to run our platform and make the customer service skills we have and meet the security privacy trust skills we have," she says.
Growing pains
Workday, has now reached a size where it needs to rationalise some of its own IT systems. As the company has expanded, upwards of five different communications and collaboration technologies have come into use across the organisation.
But when companies reach about 5,000 or 6,000 staff, they reach a tipping point, where employees start demanding a single way of doing things. "This conversation happens with a lot of tech CIOs. It's almost the bain of our existence," she says.
By testing the products internally, and gathering feedback from the rest of the business, the team's goal is to make sure that Workday works for its customers, by making sure it works for Workday first
McKenzie is focusing on identifying the best set of tools that will enable Workday's employees to communicate and collaborate more effectively.
"When you get to a certain point of scale, you have to make the transition from 'letting a thousand flowers bloom' to a better manicured garden. And we are in the process of making some of those choices now," she says.
She argues that choosing the right technology for employees is important to attract, retain, develop and inspire the workforce. Spending a little more, rather than going for the cheapest option, can create a competitive advantage for the organisation.
"We have to think about how we deploy those tools, the right tools, in a way that makes them feel like they're part of something bigger than themselves. It makes it easy for them to do their job. That isn't necessarily the lowest cost solution," she says.
From Indiana to IT
McKenzie got her first tast of technology at high school in Indiana. She "maxed out" out her credits in high school one term, leaving her with an almost empty timetable.
She filled the gap in the schedule by taking a computer programming class at another high school, on a machine programmed with punch cards.
She took a degree in computer information systems at Purdue University in Indiana, following a deal with her parents.
"My parents offered to help my siblings and I with school, with one caveat. And that was that we went to Perdue, and grew up in Indiana," she says. "Otherwise we were on our own."
Outside of work, McKenzie describes herself as an "adrenaline junkie". She rides motorcycles, competes in triathlons, and takes part in adventure races and rock-climbing.
Her day starts early, with an hour or so of work, followed by an hour's run or cycle. That doesn't leave much time for sleep, typically five hours on a weekday.
"During that time you're generating these endorphins, you just get all these really great ideas," she says. "And when I get home from there, I feel like I'm ready for the day."
Diana McKenzie biography
1983 to 1986: Purdue University, Indiana, US – BS in Computer Information Systems and Computer Technology
1987 to 2004: Eli Lilly, pharmaceuticals – a variety of information systems leadership roles.
February 2004: McKenzie joined the pharmaceuticals company Amgen as executive director for information systems. In 2007, she took on responsibility for the company's global information systems infrastructure, security and compliance, following a promotion to vice-president of information systems.
2008: Certificate from the CIO Institute, University of California, Los Angeles – a short programme to develop leadership technology skills.
December 2010 to February 2016: McKenzie took responsibility for Amgen's global information services organisation, where she focused on developing innovative analytics to improve patient care.
February 2016: McKenzie became chief information officer at Workday. She oversees Workday's global information services organisation and is responsible for deploying Workday's products and other digital technology internally.
Read more on Cloud applications